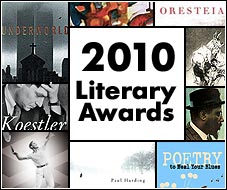 The PEN American Center has just announced its 2010 Literary Awards.
In case you're not familiar with PEN American Center, it is the U.S. branch of the world's oldest international literary and human rights organization. International PEN was founded in 1921 in direct response to the ethnic and national divisions that contributed to the First World War PEN American Center followed in 1922 and is the largest of the 144 PEN centers around the world.

Throughout its 85-year history, PEN American Center has remained a writer-centered organization with many notable presidents such as Arthur Miller, Norman Mailer, Susan Sontag, and Salman Rushdie.
This year's 14 prizes were awarded to author across a variety of genres. Here are some of the winners for your book club to consider:
Tinkers by Paul Harding
Koestler by Michael Scammell
ATerrible Splendor by Marshall Jon Fisher
Thelonious Monk: The Life and Times of an American Original by Robin D.G. Kelley
Sky Train: Tibetan Women on the Edge by Canyon Sam
Some of these may not be your typical book club books - but hey that's what book club is for, right? Trying something you might not have tried otherwise. (And wine. And good company. Those are both important too!) Click here to learn more about PEN American Center and see all of the winners!
-- Dana Barrett, Contributing Editor