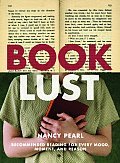 Nancy Pearl knows books. The former librarian and bookseller is the author of
Book
Lu
s
t:
Recommended Reading for Every Mood, Moment, and Reason
;
More Book Lust
; and
Book Crush
, with reading suggestions for kids and teens. She is a regular commentator about books on National Public Radio and has a monthly
television program, "Book Lust with Nancy Pearl," on the Seattle Channel. There is even a Librarian Action Figure modeled in her likeness.Today Nancy weighs in on some topics pertaining to reading groups --- including how they've changed over the years --- and offers her top Fall book club discussion titles.
ReadingGroupGuides.com: How have you seen book clubs change over the years?
Nancy Pearl:
Obviously, the biggest change is their huge proliferation. I know many people who belong to more than one. Also, I'm hearing more and more that people don't want to spend book club sessions talking about their children, vacations, jobs, and gossip, but rather that they want to really discuss the book.
RGG: Is there a book you think universally works for groups?

NP:
There are three:
A Lesson Before Dying
by Ernest Gaines,
In the Lake of the Woods
by Tim O'Brien, and
The Sweet Hereafter
by Russell Banks
.

RGG: What suggestions do you have for livening up discussions?
NP:
Don't be afraid to pick books that some people won't enjoy --- discussions are always better when some participants like the book and others don't. Don't start the discussion with a question about who liked the book and who didn't. Make that the last question instead. Have everyone come to the meeting with one question they want answered --- that's a good way to broaden the discussion and ensure participation. Choose a "mini-series" of three books over a three-month period on a similar topic (perhaps two fictional and one non-fiction) --- like
The Poisonwood Bible
,
Heart of Darkness
, and
King Leopold's Ghost
. Don't weigh down the discussion with a long bio of the author and a recap of reviews.
RGG: Have you heard of any imaginative ways that book clubs utilize their local libraries?
NP:
These aren't particularly imaginative, but lots of book groups use the expertise of the librarians to help them choose books and find background information about the author. Also, if food is involved in the meeting, the library is a great resource for recipes and dishes that relate to the book in question.
RGG: What are your top picks for book clubs this Fall?
NP:
Olive Kitteridge
by Elizabeth Strout (fiction)
The Suicide Index
by Joan Wickersham (nonfiction)
Lulu in Marrakech
by Diane Johnson (fiction)
The Book of Dahlia
by Elisa Albert (fiction)
Song Yet Sung
by James McBride (fiction)