Our reader Nancy Sharko was at the 19th annual Library of Congress National Book Festival on August 31st and shares her experiences with us in this blog post. Here, she talks about the panels she attended, featuring Justice Ruth Bader Ginsburg, Beth Macy, Sara Paretsky, Laila Lalami and many more.

---
For the 19th year, readers descended on Washington, D.C. in large numbers for the Library of Congress National Book Festival. Reports are that there were over 200,000 attendees, which is mind-boggling. This was my sixth festival and definitely the largest event. I went with a childhood friend who lives in Virginia, and the festival is always a great opportunity for us to get together. Normally, our focus is on the authors who write fiction, but this year we attended both fiction and nonfiction sessions.
As usual, there were way too many options to choose from (over 100 authors, illustrators and poets presented) with 130+ sessions. The Main Stage featured the big names, including Ruth Bader Ginsburg and José Andrés, but other well-known authors included Barbara Kingsolver, V.C. Andrews, Joyce Carol Oates, Henry Louis Gates, Jr., Ann Beattie and Sigrid Nunez. We both wanted to see Justice Ginsburg and Andrés, so we went to the Convention Center early to get seats in the Main Stage area in time for the first event (Richard Ford received the Library of Congress Prize for American Fiction, and the award presentation was followed by a conversation with Ford and Maria Arana).
Ford is a very down-to-earth and engaging speaker. He spoke quite a bit about his life growing up in Mississippi (they lived across the street from Eudora Welty) and Arkansas, along with some challenging family dynamics. He said that his books aren't about his life, although some aspects of it have filtered into one of his main characters, Frank Bascombe (both are Democrats and have the same attitude toward certain things).
Ford is very involved with The Lab School in D.C., and I loved his response to an audience member who asked about the best way to encourage a dyslexic child to read. His view is that all children have learning differences (not disabilities), and the best way to encourage reading is to read to them.
For Justice Ginsburg and José Andrés, we didn't go to their sessions expecting to hear them talk about their books (as you do normally during these types of events). It was more of an opportunity to hear them speak in person, and they did not disappoint. Both were energetic, entertaining and inspirational.
Ginsburg started the conversation by telling everyone that they could see she's alive and working to get to be very well. Along with interviewer Nina Totenberg on the stage were the two women who have been working with Justice Ginsburg for 15+ years on her biographies: Mary Hartnett and Wendy Williams. Her first book with them was published in 2018 and focuses on her writings. The second will be her biography and will include a chapter about Antonin Scalia, in her own words.
Ginsburg told many interesting and some humorous stories about her law school years, family, and legal and judicial career. I encourage everyone to watch the full presentation on cspan.org, YouTube or the Library of Congress website. I was especially touched by her comments about Sandra Day O'Connor (and her recommendation of Justice O'Connor's book, FIRST). O'Connor was the closest person she ever had to an older sister, helping her orient to the court and through her first cancer battle. She also recounted instances when people confused her for the other two female justices, but says that doesn't happen any longer: "Now we are one third of the bench. My two sisters in law are not shrinking violets."
José Andrés also commanded a full house at the Main Stage, along with a large group of people in the standing-room section. Right after his session, he was flying to the Bahamas to work on getting his organization in place to help hurricane victims.
Much of the discussion between Andrés and interviewer Diane Rehm was about his work in Puerto Rico and tended to be political in nature. He did also speak a bit about his two books, WE FED AN ISLAND and VEGETABLES UNLEASHED. He said he wrote the latter because he loves vegetables, and many of the recipes are from his wife and her family. He has a number of restaurants, including Beefsteak, which he described as a fast-food restaurant featuring vegetables. The name of the restaurant comes from his love of beefsteak tomatoes, and let me just say that his description of a beefsteak tomato sandwich was almost R-rated! He ended his session by providing the audience with a recipe (grated cauliflower and orzo pasta) and a brief discussion about his favorite food and drink.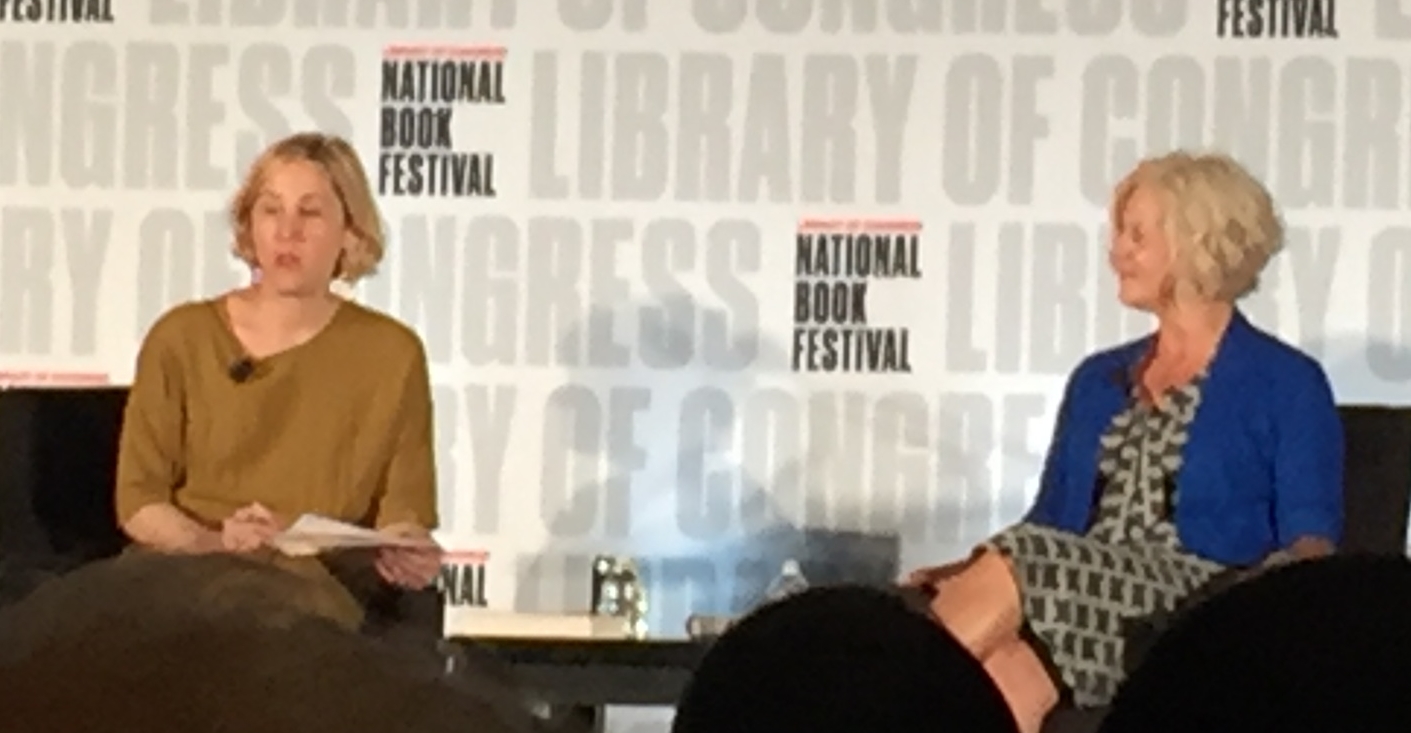 Our next session was with Beth Macy, author of DOPESICK: Dealers, Doctors, and the Drug Company that Addicted America, with interviewer Pamela Paul. Macy has a journalism background and said that with her writing, she has been able to specialize in outsiders and underdogs. Her interest in the subject also has a personal element, as she's from a family with at least four-plus generations of addiction. DOPESICK was the most difficult book she's written because it was taking place all around her. While there was a fair amount of discussion about Purdue Pharma, Macy also talked about some of the individuals she profiled in the book, including a drug dealer (her first time going to a prison), and she spoke about the recent death of one of the individuals in her book.
On the fiction side, we attended programs with Laila Lalami and Sara Paretsky.
Lalami is a new author for me. The idea for her newest book, THE OTHER AMERICANS, came to her in 2014. She was on vacation when her sister contacted her to let her know their father was near death in Morocco (where she's originally from). She was able to get to Morocco to see him (and he did recover), but felt that she returned to her husband and home in the U.S. with a sense of fear experienced by many immigrants. She lives with the fear that she may not be available to her aging parents when they need her. This sounds like an interesting premise, so I've added the book to my TBR list.
The final author we saw was Sara Paretsky, who was interviewed by Maureen Corrigan. I've been reading Paretsky's books for years, and it was a treat to be able to see her in person. There was some discussion about her most recent book, SHELL GAME, but also interesting conversation about her practice of having strong female characters and addressing societal issues in her books. V.I. Warshawski, her main character, is a strong and determined private investigator in Chicago, and Paretsky was one of the earliest authors to do this.
THE SHELL GAME also reflects her activism, including characters who are Syrian refugees, ISIS and rogue ICE agents. She said that her approach is to write what you care about, which has always led to different societal issues being a part of her books. Immigration is one of her areas of interest, both in her fiction writing and in her real life. As an example, she is part of a group of people who attend immigration hearings, because if an immigrant has more visible support in a hearing, they are more likely to get an extension. She has received criticism for this, but feels that her books represent her true self, which is very important to her.
One final comment: I know that many people don't live as conveniently as I do to D.C., but the Festival is a great excuse to plan a vacation to the area. There are many other places to see and things to do here, and interestingly the hotel prices at the end of the summer are very reasonable. The only downside is the weather, which can be fairly hot and humid.