In late January, Roz Shea reviewed WHO KILLED PIET BAROL? by Richard Mason for Bookreporter.com. She loved the book so much that she wanted to discuss it with her book group. We made a special arrangement for the publisher to send her group enough copies of the book for their discussion. The catch was that she lives in Arizona, and many of her book group members are snowbirds; as she says, "They flee the desert by mid-May." Thus she wanted to send them away with the book in hand so this discussion could be the first of the fall season. They indeed discussed the book at their first meeting of the season, and we asked Roz some questions about it.
ReadingGroupGuides.com: Tell us about your group, including the size of it, the age range of your members and how long you have been meeting.
Roz Shea: Our group was formed in 1999 with the intent to bring women together who shared the joy of reading. Most were strangers to one another because our small community in the Superstition Mountains of Arizona is largely made up of former "snowbirds" who stay to make this their home. We are 15 women of a certain age, for the most part retired from careers in education, medicine, community service, fine arts and writing. Each gathering begins with lunch, including wine (see the picture above), at the host's home, followed by a two-plus-hour book discussion. One of our early members was an OSS agent in Vienna (the precursor to the CIA) at the end of World War II, a fact she only disclosed late in life! Her insights, wit and knowledge are sorely missed. Most of us come from all over America and travel widely, and many have lived abroad for years at a time. Many leave for cooler climes during Arizona summers, so we meet only from October through May.
RGG: What kind of books does your group usually read?
RS: We discuss six books, one in each of the following classifications: classic, female author, nonfiction, fiction, winner or nominee of a major literary award, and a Southwest subject or author. We often gravitate toward books with international settings. For example, six of the seven selected for this year take place in South Africa, Morocco, Mecca, Russia, Israel and France, each belonging to one of the above categories. In a first this year, for our classic we are reading Voltaire's CANDIDE and then attending the Phoenix Opera production. We do not repeat authors, believing that we will search out those we like on our own. We submit recommendations for selection during a lively debate in the spring for the seven books for the following season so that those who leave can read them over the summer. We try to invite authors to speak if possible. Cardinal rule: First read the book we submit!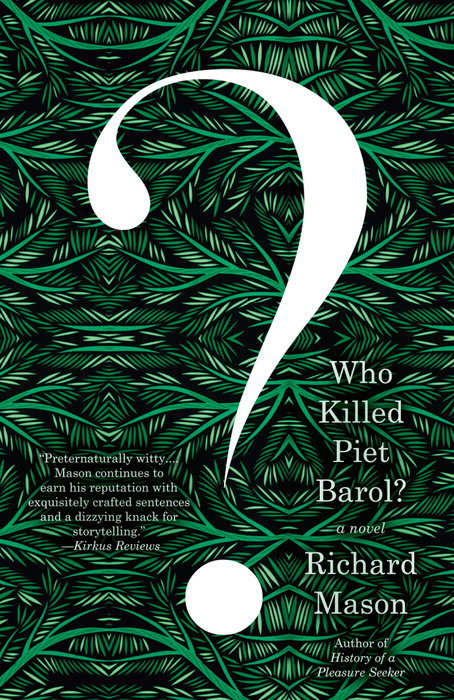 RGG: What about WHO KILLED PIET BAROL? made you want to discuss it with your group?
RS: When I read a book to review for Bookreporter.com, I try to keep potential readers in mind. With WHO KILLED PIET BAROL?, I wanted to share the author's thoughts and motivations with the group in as personal a way as possible, so I opened the session by downloading a seven-minute YouTube TV interview with Richard Mason discussing the book. Quoting from my review, "When you encounter entire passages that lead you to share them aloud with fellow book enthusiasts, you know that you have in your hands a creation by a writer of exquisite talent." Discussing this book was a way of sharing that experience with friends.
RGG: Piet and Stacy Barol have invented a life for themselves. Did you find what they did to be believable?
RS: Given what we see in today's world of greed and lust for power, I find it all too believable.
RGG: Apology is a theme that runs through the book. Did you think that anyone was truly apologetic?
RS: It was fascinating to watch Piet evolve as he interacted with his native African workers, the villagers and the forest. Whether he was sorry was debatable. His wife doesn't budge from her greedy ways, although we had quite a discussion over that, too. Nearly all of the complex characters had much to be sorry for, so that subject made for fascinating discussion.
RGG: How much did your group know about Cape Town before reading this book?
RS: None that I know of, other than touristic observation and news coverage in modern times.
RGG: Was the group united in its feeling about the book?
RS: Not always. Perhaps the most interesting discussions came about over the question of character and motivation, not only of Piet and his wife, but also the complexity of the major Bantu characters and their cultural differences.
RGG: Do you think the book works well for book groups? If so, why?
RS: Absolutely. This led to one of our liveliest debates, and we can get pretty involved. There was so much to discuss: culture clash, deforestation of ancient forests, greed, honesty, humanitarian rights --- a banquet of ideas for thinking readers. To quote from one of our members, "What a stellar and wonderful afternoon. I love how outspoken we can all become defending our takes on the books we read." Another stated, "I was glad I was pushed to finish this book. Parts of it were disturbing, but I read on. So glad I did."
RGG: Had you read anything by Richard Mason before, namely HISTORY OF A PLEASURE SEEKER? Would you like to read more by him?
RS: No, I had not read HISTORY OF A PLEASURE SEEKER, but after reviewing WHO KILLED PIET BAROL?, the first thing I did was to order it, not realizing that it was a prequel to PIET BAROL. I have shared my copy with several book club members and/or encouraged them to download or buy it because it fleshes out Piet and Stacy and who they were before Africa. I would recommend it to anyone wanting to read PIET BAROL. I look forward to anything new Richard Mason has to offer.
RGG: To whom would you recommend WHO KILLED PIET BAROL? Why?
RS: Any thoughtful reader. So many issues in early 20th-century Africa resonate in today's world as we continue to experience racism, culture wars, environmental crises and civil unrest. Are we doomed to ignore history? That is the ultimate question.

---
Pictured above (from left to right): Lauren Mitchell, Carole Lindemann, Louise Schimmel, Jo Anne Lowney, Roz Shea, Anne Coe, Trish Mosier, Linda Norton (their hostess) and Mary Dougherty of The Gold Canyon Best Book Club are lifting their glasses of South African Pinot Grigio to author Richard Mason.