In today's post, regular contributor Denise Neary shares an amazing program for kids to help them with reading comprehension. With programs like this - kids have so much fun they don't even realize they are learning. Thanks to librarian Heather Wright for your commitment to kids - and thanks Denise for sharing!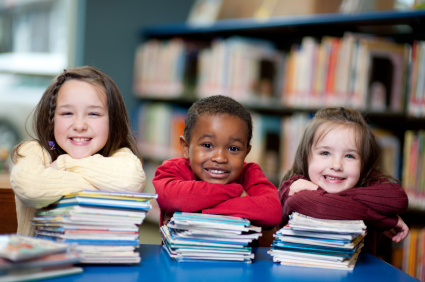 It is my personal belief that librarians have magical qualities.
I was trolling my local library's website when I came upon this posting. Act It Out: for children in grades Kindergarten, first and second grades. We will share stories and act them out. Please register.
Wouldn't you have had to know more?
I did-----and lucky for me, I was connected with the unquestionably magical Heather Wright of the Rockville (Maryland) library.
Her answers to my endless questions appear in italics.
What made the library decide to offer this program?
A woman named Lenore Kelner came and spoke to librarians a few years ago and demonstrated the technique she uses in her drama classes. She runs a place called "Interact Story Theater" which does after school drama classes using children's literature. I have tweaked her strategy to fit library audiences. I then read a book before I began called "A Dramatic Approach to Reading Comprehension", in which I learned how important drama is in the area of reading comprehension. So the participants are having fun and improving their reading at the same time! (All without actually reading a word)
How does the evening play out?
Kids in Kindergarten, 1st and 2nd grade are the audience. No parents, no younger siblings, are allowed. The format is: I, the librarian do some warm-up drama exercises with the kids (creative, using-your-imagination kind of things), then I read a story, then I have the kids tell the story back to me in their own words making sure all kids get the gist of the story. Then, I assign parts to all the kids, and we basically act it out. I am the narrator and I move the action along. The kids sit around a rug in the children's programming room in the library, and when it is their character's turn to say or do something, they stand on the rug. They don't need to say exactly what the character says in the book--they can say something they think that character might say under the circumstances. In this way, the kids are internalizing their characters, truly understanding their actions and motivations. This is an excellent way of building reading comprehension and listening comprehension. After the story is acted out, we do some cool-down exercises to come back to reality. It lasts usually about 45 minutes to an hour
.
How widespread it the program?
For now, I am the only librarian doing this in the Montgomery County system
.
How did you choose the age group?
I chose the age because this age group is skipped over in our other story time programs. And it is something of a hybrid between a story time and a book club. They don't have to read anything to prepare. And also this is the age when we can help children with reading comprehension
.
How do you select the books? One book, or several, on the evening you meet?
I select the books on my own, looking for books that have lots of roles. Sometimes we do 2 books, but usually we have time for only one.
Some of the books we have done include Martina the Cockroach; Good night, Good Knight; Heckedy Peg; Old Devil Wind; Thanksgiving at the Tappletons; The Magic Dreidels; Peter and the Wolf; The Great Kapok Tree; Name of the Tree; Gobble Gobble Slip Slop; Too Much Talk; Dragon Pizzeria; The Big Pumpkin; The Little Old Lady who was not afraid of anything.
Is there a core group of regulars, a different group each month, or something in between? How big is the group typically?
There is a core group of about 5 regulars, and beyond that, it seems to be different each time. I have been doing this since January 2009, on a monthly basis. There are usually about a dozen kids each month.
I can never predict how many will come. I ask them to register, but usually half of those registered show up and kids always show up who didn't register. It's hard to pick a book when you don't know how many kids are coming. So I find myself picking 3 or 4 alternate books, in case we get more or less attendance. And sometimes if there are more kids than roles, I will assign 2 kids to one role.
A favorite moment would be when I gave the role of a princess to very shy little girl, who surprised everyone by speaking up and acting like a star! When I told her parents afterwards, they were amazed and she was so proud of herself!
Your favorite thing about Act it Out?
The best thing is the spontaneity--you can prepare to a certain extent, but anything goes once you get started!
Kudos to Heather Wright, and to her colleagues at the Rockville Library----who knows how many budding readers (and certain book club members) she is nurturing?
Act it Out sounds like it provides the building blocks of the book club experience----books, interesting people, fun, expecting the unexpected, and drama!
-- Denise Neary, Regular Contributor