In today's guest post, regular contributor Heather Johnson shares some details from the Baltimore Book Festival. Did you get a chance to go? Or will you be hitting any of the other Book Festivals this fall? If not - change your plans. They really are a lot of fun!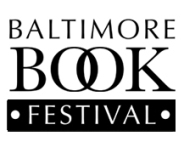 This past weekend's Baltimore Book Festival is one of my favorite events of the year. I love browsing the stalls that feature local authors, watching famous chefs do cooking demos to promote their latest cookbooks, and seeing big-name authors read excerpts from their books. But more than that, I enjoy being around other book lovers, knowing that we are all in one place to celebrate the written word. It can't get much better than that.
But wait, yes it can! This year I moderated two panels at the Baltimore Book Festival. The first panel brought together local bloggers to discuss what exactly book blogging is and introduce this wonderful resource to festival goers (details at
this link
). The second panel featured local book club members who discussed ways to make a book club be the very best it can be.
I'm not sure why but fall seems to be
the time
for book festivals across the county. The
Brooklyn Book Festival
is already over but there are plenty of others coming up soon. Here's a short list of those scheduled for the next few weeks. Which ones am I missing?
If you go to any of these wonderful events, we'd love to hear about your experience!