Today's guest blogger is woman of many talents - she is not only the author of bestselling books but is also Editor-in-Chief of O, the Oprah Magazine. In her latest book, THE WAVE, she takes the scientifc subject of 100 foot waves and goes personal, following both the scientists and the extreme surfers who follow the waves. This kind of book may be a departure for your book club, but give it a try - I have found similar books (SHADOW DIVERS by Robert Kurson, for example) to be all the more compelling because they are true.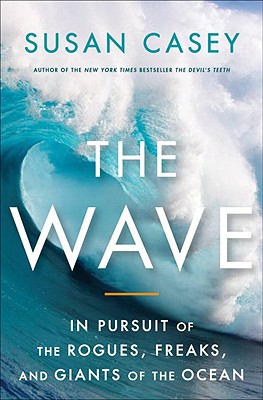 THE WAVE: IN PURSUIT OF THE ROGUES, FREAKS, AND GIANTS OF THE OCEAN is about the quest to encounter one of nature's most powerful forces: the 100-foot wave. I'm investigating rogue waves, freak waves, tsunamis, storm waves, the scientists who study them, the ship captains who encounter them, and the dangerous, multimillion-dollar competition among big wave surfers to be first to ride a 100-foot face. There is also a theme of climate change in the book: as scientists are in agreement that we're headed into a stormier, more aquatic future.

Extreme waves are fascinating, in part because (as with many things in the ocean) we understand them so poorly. For decades and even centuries, a startling number of large ships have vanished without explanation—even now, on average, two dozen ships larger than 500 tons disappear each year, often without so much as a final Mayday. Giant waves were long suspected as the cause, and some clues pointed squarely in this direction, but by the rules of linear physics, they shouldn't have been able to exist. Recently, however, new technologies have proved they do, and in startling numbers. "Scientists Baffled by Giant Walls of Water," the New York Times reported; "Existence of 100-Foot Waves Confirmed." And as climate change brings increasingly volatile ocean conditions, as the global population clusters along the coastlines, as commercial ships venture into every last corner of the sea, we will be reckoning far more often with what the great explorer Ernest Shackleton—who encountered a 100-foot rogue wave near Antarctica—referred to as, "a mighty upheaval of the ocean."

A 100-foot wave contains almost unfathomable power, and would seem to be the very definition of something to avoid. A small group of men, however, would give anything to find one. They're a small, passionate, and most would say crazy, subset of surfers who use jet skis to deposit themselves onto the waves that are far too big to paddle into. Since the advent of "tow-in surfing" in the mid-nineties, the bar has continually risen. Several men have ridden faces larger than 70 feet, and the grail looms even higher: who will be the first to surf a 100-foot wave? No one knows, but we're likely to find out. Modern meteorology and bathymetry have created the tools for surfers to predict and chase the biggest waves around the globe; the equipment has been continually fine-tuned so that now there's a chance that someone bold enough to ride a 100-foot wave might even survive it. Yet no one knows for sure. One of the main characters in The Wave is Laird Hamilton, one of tow-surfing's inventors and pioneers. He's a larger-than-life person, widely acknowledged as the greatest living big wave rider, and often compared to the legendary test pilot, Chuck Yeager.

I have spent the last 5 years living with, traveling with, and going into the largest waves in the world with Hamilton and other elite tow surfers, as well as scientists studying these monsters, ship captains trying to survive them, and marine salvagers whose jobs require them to rescue people and boats that are caught in the ocean's most perilous conditions.

It's been a fascinating journey and I hope your book club will find much to discuss.
-- Susan Casey, Author