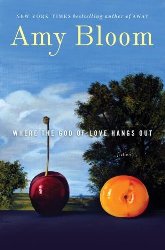 Amy Bloom
, today's guest blogger and bestselling author of AWAY and other highly-praised books, talks about her experiences meeting with book clubs over the years
. I always wonder what it must be like for authors to hear directly from their readers that way, and Amy lets us in on just how it feels. Has your book club met with authors? Have they been as honest as some of these were?


Amy's book club reflections are timely as her newest book, Where the God of Love Hangs Out, a collection of short stories is in stores today and she'll be getting to hear what readers think all over again.
My very first book club event: a fancy book club of forty years duration flew me to their big city to join them for a luncheon (you other book clubs, please take note!). I was picked up at the airport and driven to the private dining room of the kind of private club I would never dream of entering. Every other woman in the room had on ropes of pearls. A tall good-looking young woman with a strong chin stood up and welcomed me. "I just loved this book," she said. I smiled. There was silence. Another tall, good-looking, strong-chinned woman, about 25 years older, stood up, at the other end of the long table. "I didn't," she said. Her diction was impeccable. "I hated it." Silence. The woman to my right dipped a spoon into her tomato soup and everyone else followed suit. We ate the soup, the sandwich, the salad and the quivering custard, in silence. At the end of the interminable lunch, the mother and daughter rose, faced off baring their teeth and thanked me for coming.
At another book club gathering (this one was a consortium of five book clubs from the region), a woman sidled up to me—in a very spy novel manner and whispered, "Watch out for the woman in the red suit. She thinks you're immoral." She discreetly passed me her book to sign. "The rest of us disagree," she said, "but she has cancer and no one wants to argue with her." She melted away and I took the usual questions and then the lady in the red suit stood up. She said, "In this book, you have every kind of perversion in the world." Oh, not so, I wanted to say. I can think of three, right off the bat, that never make an appearance in this book. She was in pain and she was furious and I kept my mouth shut. She then took out her notes, on a legal pad and described—not warmly—every sex act that took place in the book and managed to make even the most affectionate and sedate act sound repulsive. She sat down and sipped her water, trembling. I thanked her for her thoughts and mentally, I regretted that anything I had written should add to her pain.
At one of my favorite gatherings, one man said that he was distressed to see that several female characters had found themselves acting like prostitutes—or even being prostitutes. In his experience, he said, those situations simply did not occur to nice young women. An older woman, dressed beautifully, for a more formal age, said, "Really? I think that one does not have to be a professional, to find oneself, as a young woman, with not much power except your attractiveness, no money, no friends and in a desperate situation, in which one must use what one has, in order to survive." Another lady, a little older, and also dressed to the nines, stood up and waved her wine glass, "Hear, hear," she said.
It's a privilege to meet readers and it is wonderful to meet my readers. Book clubs have introduced me to people who thought about my work in new and insightful ways, who helped me see that something might be clear to me but ambiguous to people-not-me. Book clubs have given me a warm place in a new city and offered new friends and much-appreciated support. Most writers are also readers; to sit in a room with my own kind, talking about words and stories, has been an unexpected and happy part of book tours.