Today's Guest blogger, Sally Koslow, offers some talking points and topics about her latest novel,
The Late, Lamented Molly Marx
.
I spent a lovely day on the deck in North Carolina while I was on vacation reading an advance copy of
The Late, Lamented Molly Marx
. I had enjoyed Sally's first book,
Little Pink Slips
, and felt that in that one she nailed a lot about the magazine business that we both had worked in; I had first met her when she worked at
Mademoiselle
. Thus I was looking forward to getting into
Molly Marx
. She had me at the first page, and I found myself sitting in the deck chair reading until the sun was setting. From her perch "somewhere above" Molly watches over her loved ones as they peel away the layers of her life to learn what happened to her and whether her death was an accident or something else.
The Late, Lamented Molly Marx
is smart, it's brisk, it's clever and when you close it, you definitely want to chat about it.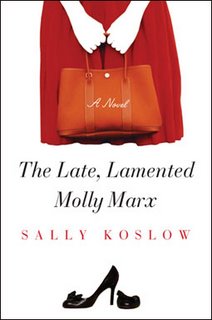 Five years ago, if you'd predicted that in 2009 I'd be a woman who works wearing sweats, in a den/bedroom, finishing her third novel, I'd have asked what you were smoking. I'd shimmied up the flagpole, happily balancing on the top as the editor-in-chief of
McCall's
, a magazine you --- or even your great-grandma --- might have read. Then...whoops. I fell, landing far away from the vortex of activity that is a Manhattan office.
In the shattering quiet that was my new life, no longer surrounded by witty colleagues, I asked fundamental questions. Who will I talk to all day? Where's the I.T. guy? Most important, who am I? I'd made plenty of bad decisions in my life, but one I never regretted was becoming an editor, the universe's best job. What now --- and the 30 years after them?
Then, one day, a voice squeaked: "Try to write a novel, Sal." Though I was probably the one woman in the Western world convinced that she most definitely did not have a book in her, I listened to the voice and persuaded a creative writer teacher to let me join his workshop, because I instinctively knew that only if someone barked "it's due Monday," would I put any words on paper. A procrastinator at heart, I do respect deadlines, since my life has been measured out by them for 30 years. The teacher gave me an assignment. I fulfilled it. I rinsed, lathered and repeated...until the manuscript was done.
Writing a book is like giving birth to a baby elephant, the result of a twenty-two month gestation, more or less. My first novel,
Little Pink Slips ---
about, ahem, an editor who loses her job --- is being followed this month by
The Late, Lamented Molly Marx
, a story inspired while attending the funeral for a neighbor whom I didn't know well. As eulogies unfolded, I wished I had. When people gathered at the widower's home, I moved on to shock when mourners approached him about dating and his mother whined about what a difficult person her deceased daughter-in-law had been. By evening I was infected by a "you-can't-make-this-stuff-up" feeling and knew I wanted to write about mysterious circumstances cloaking a woman's death.
The Late, Lamented Molly Marx
is built on a mystery, but the real mystery isn't how Molly died, but the complex relationships that made up her life. I'm pleased that readers are finding the novel to be amusing; I admire writing where humor and tenderness collide. It also makes me feel terrific that people are telling me Molly has a compelling voice, because when I read myself, it's all about relatable characters and the emotions they stir. I've tried to write the kind of book I like to read.
I've always felt that after you're finished reading a novel, the experience is vastly enhanced by chewing through it with smart people who come at the story from different directions, comparing their reactions. Nothing would delight me more than if
The Late, Lamented Molly Marx
would be embraced by book clubs. There's a lot to discuss. Molly, for instance, suspects that her husband cheats. Why do women stay with guys like that? Should they have split up? Do you know women who marry men who you think aren't their equal --- or the reverse?
The Late, Lamented Molly Marx
explores relationships between sisters, which the anthropologist Margaret Mead has observed is often the most troubled one in the family! Why do you think so many sisters can't get along? And moving from sisters to friends --- another element in the novel --- what qualities do you believe need to be present for women to maintain strong, lasting friendships?
Molly is a young mom. I'm wondering if readers will think that giving birth helps her grow up, and if they consider her a good mother. How does motherhood enrich a woman's life? Make women's lives harder?
Molly's challenge is learning how to let go. In a book club, I'm hoping book club participants will discuss situations in their own lives where they've had to grapple with loss, and share what's helped them.
There's a lot to talk about in
The Late, Lamented Molly Marx
. I only wish I could be in on the discussions of my novel, my baby elephant. Writing it has made me realize that while some days I miss my old job, mostly, I just miss the shoes and the people who wear them.
Stop by my website,
SallyKoslow.com
. I'd be happy to visit your book club, either in person or by phone.
---Sally Koslow