Today RGG.com contributor Kathy L. Patrick shares the Books of the Year chosen by the Pulpwood Queens Book Clubs --- not only great gift suggestions but candidates for your own group's discussions. And if you're looking to take your book club on a post-holiday adventure, a great literary getaway would be the Pulpwood Queens' Girlfriend Weekend in January.
The timing could not be any more perfect for announcing the best books to give as presents this holiday season. You see, yesterday I announced the Pulpwood Queens Books of the Year! The Pulpwood Queens Book Clubs have been sending me their votes for the best books this past month. All the votes have been tallied and since these votes came in from our chapters coast to coast, from Anchorage, Alaska to South Louisiana, I feel these books are indicative of great reads for all.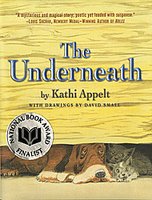 This past year I added a best childrens' book category as we now have Splinter and Pine Cone chapters of our book club, basically the Teen and Pre-Teen branches of the Pulpwood Queens Book Club. The winner of that category is
The Underneath
by Kathi Appelt.
The Underneath
is the story of an unlikely friendship between a chained and beaten hunting dog and a pregnant abandoned cat that live beneath a poacher's ramshackle cabin on the bayou here in East Texas. Reading this book brought back the memories of my childhood favorite books read to me by my teachers:
Old Yeller
,
Where the Red Fern Grows
,
The Yearling
and
Island of the Blue Dolphins
. Adults will love this read, too; it's one to read aloud for the whole family.
The Underneath
was also a finalist for the National Book Award.
Besides the Pulpwood Queens Book of the Year we now have another new category, Pulpwood Queens Bonus Book of the Year! The winner of that award is
Same Kind of Different as
Me
by Ron Hall and Denver Moore. The story is of an international art dealer,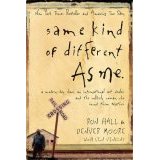 his wife --- who found her passion in working with the homeless --- and a modern-day slave that will touch your heart and give you hope for a better tomorrow.
Ron and Denver have been traversing the country with over 400 speaking engagements. They have personally sold more than 200,000 copies and raised over 200 million dollars for homeless shelters, including Newgate Mission, where I teach a life writing class, seriously because of them. Word has it that Denzel Washington has purchased the film rights and that Forrest Whittaker will be portraying the Denver Moore role of this true story that will change the way you think about homeless people forever and your life's mission forever.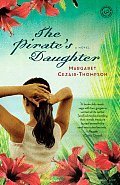 Last, our Pulpwood Queen Book of the Year Award goes to
Margaret Cezair-Thompson
, author of
The Pirate's Daughter.
This fictitious story is based upon the real life Errol Flynn, who fled to the South Pacific to escape the consequences of stateside scandal. Told through the eyes of May, Errol Flynn's daughter, born to a Jamaican woman, Ida, who was just 13 years old when she first met the movie star who shipwrecked in 1946. It's a magnificent tale of "what if," set against the backdrop of old Hollywood and the lush tropical setting of Port Antonio, and a dual generational coming-of-age saga.
Now all the Pulpwood Queens want you to know that these are the perfect gifts for the holidays. All the winners will be present at our annual Pulpwood Queens convention to receive their awards, January 17th, at our annual Pulpwood Queens Book Club Convention --- which we call our Girlfriend Weekend Author Extravaganza.
For more information on all of our Pulpwood Queens Book Club Selections or more on our Girlfriend Weekend, please go to
beautyandthebook.com
and
pulpwoodqueen.com
.
Happy Reading to You and Yours and remember that old adage, "A book is a gift that keeps on giving!"
Tiara Wearing and Book Sharing,
Kathy L. Patrick
Founder of the Pulpwood Queens Book Clubs and author of
The Pulpwood Queens Tiara Wearing, Book Sharing Guide to Life