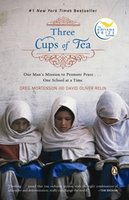 Last month on ReadingGroupGuides.com we added the discussion guide for Greg Mortenson's
Three Cups of Tea
, which we have received literally hundreds of requests for in the past few months. Both a young adult and a kids' version of the book will be out in January, making it a great choice for a mother/daughter or mother/son book group discussion, as well as a wonderful choice to suggest to teachers and librarians.
The weekend before Thanksgiving I had the chance to hear Mortenson speak while I was in San Antonio for the National Council of English Teachers conference. He is unassuming, but a very powerful speaker. His presentation opened with a video where his daughter told the story behind
Three Cups of Tea
and introduced her dad. Her voice, her tone and her intense pride in her dad and what he has done resonated with the audience and made this story a lot more personal for all of us. For those of you who do not know the background, here's a brief synopsis.
When Mortenson failed to summit on a climb up K2, the world's second tallest mountain, and was seriously weakened by the climb, he stayed for seven weeks in the small Pakistani village of Korphe recuperating. There he came to love these people. Seeing the abject poverty and realizing there was no school for the children, he promised to return and build one, a project that grew into the Central Asia Institute, which has since constructed more than 50 schools across rural Pakistan and Afghanistan. He spoke about the schools that they have built, the money that has been raised, and his Pennies for Peace program that you can read more about
here
.
My mother's book group read
Three Cups of Tea
last month, and they decided they wanted to be part of this cause. They each are bringing a check for $12 to their December meeting and will be donating these funds to Mortenson's effort.
Three Cups of Tea
has struck a chord with other books clubs as well, and it inspired us to ask ReadingGroupGuides.com readers what they're doing this holiday season. Tomorrow we'll be sharing tips, stories, advice and traditions from book club members. Many incorporate a charitable component, underscoring what we've long known here at ReadingGroupGuides.com --- book clubs can make a difference.