ReadingGroupGuides.com contributor Heather Johnson's latest book club selection was an unknown title --- or so she thought. Read on to find out what novel is garnering some serious book club buzz...
It seems to me that many book clubs are reading the same books, and my club is no exception. Over the past few years we've read
The Kite Runner
,
Eat Pray Love
,
Life of Pi
,
The Curious Incident of the Dog in the Night-time
, and
The Secret Life of Bees
among others. So I was pretty excited when the book chosen for our September meeting was one most of us had never heard of...
Redeeming Love
.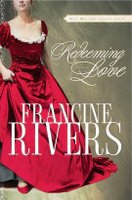 Imagine my surprise when, all of a sudden, I was seeing this title everywhere! There was an eight-person waiting list for it at the library. Book bloggers were posting reviews of it. Other book clubs said they had read or planned to read it this year. And then recently on this very site
a guest blogger
wrote about her club's experience with it.
Why the sudden interest in this book? Most of the popular book club titles are new books, but
Redeeming Love
was first published in the 1990s (although it was re-released in hardcover last year). And it's technically Christian Fiction; that's not a genre most book clubs usually go for. I can't figure it out...
Regardless of what started it, there's no denying that this is a hot book in book club circles right now. It just goes to show the power of book clubs --- the power of word-of-mouth --- to bring attention to an otherwise overlooked book.
FYI, our meeting was last Thursday, and most of the girls in my club loved this book. Of the 11 who read it, 7 gave it an 8 or higher (on a scale of 1-10, 10 being the best). The remaining 4 members just thought it was "meh".
Now I want to hear from you! Have you heard of
Redeeming Love
? Where did you hear about it? Has your book club read it? Do you have any ideas about what started its recent popularity? Please share your thoughts...this inquiring mind wants to know.
---Heather Johnson