ReadingGroupGuides.com contributor and book club facilitator
Esther Bushell
shares some upcoming publications reading groups might want to keep an eye out for...
Recently, Carol Fitzgerald and I had lunch at The Spotted Pig in New York City, courtesy of Random House; this was a way of introducing us to four young writers, all of whom have their books scheduled for publication in 2009, and the energy at the event was absolutely palpable.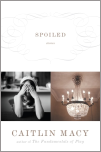 Caitlin Macy
's first book, the novel
The Fundamentals of Play
, takes place in Manhattan, where Caitlin lives. Her wonderful new book, a collection of stories connected by theme and gender, is
Spoiled
, and it'll be published on March 3rd. Of particular interest to me was the story "Carrie," about a young woman from Greenwich, Connecticut --- a product of the public schools --- and her young married life in NYC. I asked Caitlin the question that's always in the forefront of my consciousness, "Why Greenwich?" and being a resident of the town I loved her answer: "Greenwich is iconic; you don't have to explain too much." I hope that my book groups will see this as a perfect board from which to dive headlong into a multilayered discussion.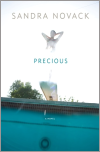 Sandra Novack
lives near Atlanta with her husband, a paleontologist, and
Precious
, her first novel, will be published on February 17th. This novel is about a fractured family and the dynamics during the summer when a young girl goes missing. Sandy knows what she's writing about, and in talking with her, I was fascinated at how much autobiography is included. We all know that happens in novels, but when you know the specifics, the whole novel explodes for the reader, or at least for me.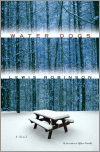 Lewis Robinson
won huge recognition for his collection of stories,
Officer Friendly and Other Stories
. Due out on January 13th,
Water Dogs
takes place on Meadow Island, Maine, and focuses on the trust and loyalty between two brothers. Robinson's descriptions are so evocative that the setting is as much a character as the people.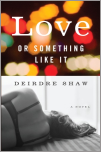 Deirdre Shaw
flew out for this event from Santa Monica; though only thirty-six, Deirdre has been a prolific writer of short stories, so her debut novel,
Love or Something Like It
(don't you love the title?) has been long awaited. Its publication date is April 14th. This is a story of brave Lacey Brennan, a woman of great universality, for all of us have had to evaluate our lives and the paths we've taken --- or not taken.
Lots of press was at this event, so I'm sure you'll be hearing and reading about these significant 2009 publications. They'll garner raves --- and deservedly so!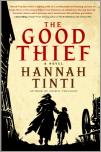 I'm planning to be at
BookGroupExpo
in San Jose (yes, I know the way --- why does everyone feel compelled to ask that?) from the 24th through the 26th of October. I've never been to Expo, so you can just imagine how excited I am about an entire weekend of book talk! Heavenly! I've been in touch with Ann Kent, the mastermind behind this event, and I'm so pleased that Carol Fitzgerald will be there, too.
Right this very minute I'm reading
The Good Thief
, a captivating novel by Hannah Tinti. I'll report back when I return from San Jose.
---Esther Bushell