Today, guest blogger Elizabeth Strout offers insight on her latest book,
Olive Kitteridge
, which last week Nancy Pearl listed as one of her top five picks for book clubs this fall. Elizabeth is also the author of
Abide with Me
and
Amy and Isabelle
.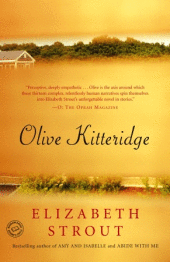 I grew up along the coast of Maine, and I have lived in New York City for many years. I love New York, but I think I am always living with a low-grade fever of homesickness, and that's why so much of my work goes back to New England. Writing
Olive Kitteridge
was a real trip home, in the sense that I went to places in my mind that I hadn't been for years. It's a kind of love song, in a way, because the more I wrote about this woman the more I understood her; that happens with writing. I understood that she is a person of the land, a barnacle in a sea that is now really changing, as all things eventually change.
Olive is fierce in her passions, unkind in her needs, large-hearted at the most unexpected times, and intuitive while being blind to her own actions. Writing about her was freeing --- I thought, I will not protect this character, I will let her be herself on the page, and she was. There is sometimes an unconscious tendency to be careful, and as the person writing her I realized that she is not careful, and so I could not be either.
Some of the stories had been written earlier, but all of the new ones were written one summer in a cottage on the beach in Provincetown, Massachusetts. The little bedroom of the cottage was facing the beach and the ocean, and lobster traps, and every morning there was a lobster fisherman who came to work on his traps and he brought his German shepherd with him. It was stunningly similar to the scenes of my childhood --- every morning I thought that. I think it was very good for my work, as though I had slipped through time and was inside that coastal world again.
There was no television or radio in this cottage, and each day I wrote intently for as long as I could. Then I would ride my bike like mad, all around the trails and through the woods. I would swim in the ocean, then get back on my bike and pedal like crazy again, as I had when I was a child. I returned to New York a few weeks earlier than I had planned because I was so strung out from the intensity of working like that. But it was great.
---Elizabeth Strout