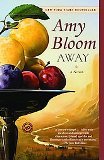 Yesterday we shared
Amy Bloom
's recipe for lasagna. Now we have an even more intriguing recipe that you can dish up at your next reading group gathering, one that's sure to be as talked-about as your book selection: Amy Bloom's Dessert Lasagna.
Amy Bloom's Insanely Complicated Dessert Lasagna

INGREDIENTS
1 fresh pineapple, peeled and cut in half lengthwise
6 ounces cream cheese, at room temperature
3-6 tablespoons coconut cream (depends how gummy the cream cheese is)
1/4 cup chilled heavy cream
1/4 cup diced ripe mango
For strawberry sauce:
3 ounces strawberries, chopped
7 tablespoons sugar
For assembly:
1/4 cup sugar
DIRECTIONS
Preparation:
Stand one half of pineapple upright. Position a large sharp knife at top of pineapple, at outer edge of core, and slice downward to cut pineapple into two pieces. Set aside piece that does not contain core for assembly of dish, and cut core out of other section. Repeat with the other half of pineapple. Dice enough of cored sections to produce 1/4 cup diced pineapple.
Puree cream cheese and coconut cream in a food processor until very smooth, then transfer mixture to a large bowl. Beat heavy cream in a chilled bowl with whisk until it just holds soft peaks. Fold whipped cream, mango, and diced pineapple into cream cheese mixture and refrigerate for at least 2 hours.
Make strawberry sauce:
Place strawberries in a food processor or blender and sprinkle with sugar. Let stand for 10 minutes, then process until smooth. Strain and refrigerate until ready to serve.
Assemble dish:
Preheat broiler. Starting with wider sides, cut 6 thin slices from each half of reserved pineapple using a mandoline or sharp knife, for a total of 12 slices. Trim slices so they are evenly rectangular, lay on a greased baking sheet, and sprinkle with sugar. Broil until sugar melts and browns, about 10 minutes. (If you have a torch, you can use it.)
To assemble one "lasagna": Lay 1 slice of pineapple, sugar side up, on a plate. Spread with coconut whipped cream, then top with another slice of pineapple, sugar side up, and more coconut cream. Finish with a third slice of pineapple, sugar side up. Repeat to form 3 more "lasagnas." Decorate with strawberry sauce and serve.
This is either very impressive, or, if you get a little sloppy, like something out of Friday the 13th. Good luck!