About the Book
About the Book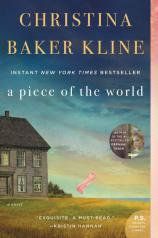 This paperback edition includes a color reproduction of Andrew Wyeth's painting, Christina's World, along with a Q&A with bestselling author Kristin Hannah and a bonus short story, "Stranded in Ice."
From the #1 New York Times bestselling author of the smash bestseller ORPHAN TRAIN, a stunning and atmospheric novel of friendship, passion and art, inspired by Andrew Wyeth's mysterious and iconic painting, Christina's World.
"Later he told me that he'd been afraid to show me the painting. He thought I wouldn't like the way he portrayed me: dragging myself across the field, fingers clutching dirt, my legs twisted behind. The arid moonscape of wheatgrass and timothy. That dilapidated house in the distance, looming up like a secret that won't stay hidden."
To Christina Olson, the entire world is her family farm in the small coastal town of Cushing, Maine. The only daughter in a family of sons, Christina is tied to her home by health and circumstance, and seems destined for a small life. Instead, she becomes Andrew Wyeth's first great inspiration, and the subject of one of the best-known paintings of the 20th century, Christina's World.
As she did in her beloved bestseller ORPHAN TRAIN, Christina Baker Kline interweaves fact and fiction to vividly reimagine a real moment in history. A PIECE OF THE WORLD is a powerful story of the flesh-and-blood woman behind the portrait, her complicated relationship to her family and inheritance, and how artist and muse can come together to forge a new and timeless legacy.