About the Book
About the Book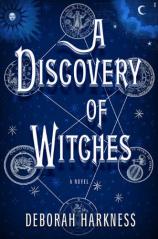 Diana Bishop has spent her entire life trying to deny who she really is. The only child of two powerful witches, orphaned when she was just seven years old, Diana has rejected her magical abilities, determined to pass as human. But with her unwitting discovery of a mysterious manuscript long hidden in the archives of the Bodleian Library, Diana is forced to face the heritage she has tried so hard to forget. The power of the enchanted manuscript, known only as Ashmole 782, is both tantalizing and intimidating and she quickly sends the book back to the stacks, hoping to return to her normal life. Unbeknownst to her, she has discovered a volume that can unlock all the secrets of her world and, in doing so, has ignited a war --- and made herself the prime target.
Drawing on a wealth of knowledge about alchemy and the history of witchcraft, Deborah Harkness has crafted a fast-paced, intensely readable novel of magic, adventure, and romance. A Discovery of Witches charts Diana's struggle to accept her family's magical legacy, her growing understanding of the scope of the battle she has begun, and her dangerous alliance with handsome geneticist --- and fifteen-hundred-year-old vampire --- Matthew Clairmont.
Vampires, known for their jaw-dropping good looks and seductive charm, aren't supposed to associate with witches, but Diana's discovery has caught Matthew's attention. Contrary to everything she has been taught and despite her initial reluctance and suspicion, Diana joins forces with Matthew to battle the dark spirits that are gathering around them. But cooperation quickly leads to attraction as Diana and Matthew begin to fall in love --- an act forbidden by the Congregation, the covenant of witches, daemons, and vampires who dictate the rules of behavior for all underworld species and have the power to cruelly punish those who break them.
A complicated yet entirely relatable heroine, Diana must discover the surprising truth of her own legacy and realize the strength of her magic in order to prevent Ashmole 782 from falling into the wrong hands. Her journey, as well as her relationship with Matthew, will keep readers turning pages late into the night and have them hotly anticipating the next stage in her adventure. A world filled with enchantment and danger, sorcery and science, A Discovery of Witches is a sophisticated and smart novel that blends the excitement of a classic supernatural thriller with the intelligence that could be provided only by a respected scholar and skilled storyteller like Deborah Harkness.