Reading Group Guide
Discussion Questions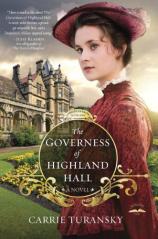 1. Education was quite different in the Edwardian Era than it is today. What do you think of Julia's approach to teaching and working with Andrew and Millie? How do you think being taught by a governess would compare to the various types of education children receive today? What would be the benefits or drawbacks?
2. William was haunted by memories of his wife's unfaithfulness. How did this impact him in the story, and how would you advise someone who has experienced that kind of wounding as he or she moves on?
3. Why did Katherine struggle with the idea of having a governess? Were her objections reasonable? How do you think Julia was able to help her grow and change in the story?
4. William and David struggled with sibling rivalry in their relationship. Why do you think that happened, and how did it impact them? Adult sibling relationships can be complicated. Share what you believe is the best method of conflict resolution within these close connections.
5. Sarah's handicap was caused by a stroke when she was an infant, and it limited her use of one hand and arm. Clark helps her see that God can bring good into our lives through our handicaps and struggles. Can you share a difficult experience or limitation you've faced in your life and a way God used it for good?
6. William thought inheriting the title of baronet and overseeing his family's estate would help him regain his feelings of self-worth. What are some other ways a person could regain a sense of self-worth and experience healing after they have been hurt or betrayed?
7. Katherine was preparing for the London social season and her debut in society where she hoped to meet her future husband. What do you think of these methods of finding a mate? Were they too shallow, or do we over think it today, relying less on family connections?
8. Sarah and Julia enjoyed a special friendship. What do you think drew them together? What are some of the blessings you have enjoyed in your friendships?
9. Andrew had a hard time controlling all his extra energy. What are some ways Julia helped him deal with that challenge? Do you find children with Andrew's challenges receive greater empathy and resources today or not?
10. At the beginning of the story, Julia felt her family was called to serve the Lord in India, but in the end she changed her mind and decided to stay in England and marry William. What do you think of her choosing a different direction in life? Have you ever sensed the Lord directing you to serve Him in a particular way? Have you ever changed course and gone in a different direction?
11. Sarah asks Julia to keep information about Clark from William. Do you think she was right in doing so, and was Julia, as William's employee, right to keep the secret to herself?
12. When the story opens William has a formal and distant relationship to God. How did it change over the course of the story, and what brought about those changes?
The Governess of Highland Hall: Edwardian Brides, Book One
by Carrie Turansky
Publication Date: October 15, 2013
Paperback: 336 pages
Publisher: Multnomah Books
ISBN-10: 1601424965
ISBN-13: 9781601424969