Excerpt
Excerpt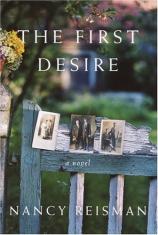 Chapter 1
Sadie 1929
July, the air grassy and mild, the sort of morn- ing Sadie waits for through the deep of Buffalo winters --- mornings when it seems the city has surrendered to pleasure, to color and light. The harsh seasons are unimaginable. It's as if this is how all of life is meant to be; as if drinking coffee and reading, gardening and casual piano playing, are her true occupations; as if cardinals flashing through the yards and the lush green of lawns and the maple's fat leaves signal a permanent arrival. There are dahlias on the dining table, yellow and red, late strawberries. It's still early, and Sadie has an hour, maybe two, before the day's obligations intrude. The easy time, she thinks, the garden time. It's something she associates with marriage --- not the image of a couple in the garden, but the luxury of time alone at her own house. A luxury apparent only after her mother's death, for which of course there is no compensation; but here is the second summer of such mornings, a time not yet occluded by children. She is twenty-four years old. Here is her coffee, the morning paper; in the back hall there are red geraniums to plant in a window box. The day is already bright, and she opens the living room drapes to the grass and pansies and oaks, and stops. There's a man on her lawn: light brown suit, cigar in hand, facing away from her. Slim and coltish, an impatience in his stance, a lack of definition she usually associates with faces but here sees even in the posture, the lines of his shoulders. It's Irving, her baby brother.
She glances at the new aqua-colored divan. The smallest of diversions, the look away. Close the curtains, she thinks, try again later. As if he will vanish. As if in ten minutes or an hour she'll open the curtains onto a lawn empty of everything but border pansies and white petunias. Pretend the man on the lawn is instead a strolling neighbor pausing to relight his cigar. Because the cigar is out. But Irving makes no gesture to relight it, and he is in fact Irving: Sadie has only one brother and there is no mistaking him. Irving, whom she did not expect to see at all today, let alone at this hour, miles from the family house, dampening his shoes in the grass.
She wishes it were noon. She wishes he were standing in a coffee shop: she is often happy to see him in coffee shops, in the company of pastry. They could eat Danish and argue about new pictures, and Irving could imitate Chaplin, walking with fast small steps and tipping his hat to make her laugh. Irving on the lawn cannot be a good thing.
In her nightgown and robe she opens the front door. A spread of bright petunias hems the grass. "Irving?"
He turns, ashes the burnt-out cigar, checks the bottom of his shoes, as if he has stepped in something unpleasant. For an instant he's a puzzled tan flamingo. And then he is Irving again, but he doesn't look her in the eye. What? A death? He'd have spoken by now if it were, and no one's been ill; there's evasion in his manner, but not the air of drowning. That half-embarrassed staring at his shoe --- it's more than a small gambling debt. A girl in trouble? Which would be dreadful, of course, more than a little shocking, but not out of character.
"Have some coffee," Sadie says. And now he glances at her --- still the puzzled look --- crosses the thick grass, wipes his shoes on the front mat, and follows her voice through the hall to the din- ing room. She seats him at the head of the table, makes a ritual of pouring the coffee, stirring in the sugar and cream. He could be like this when he was a boy, couldn't he? Quiet, half-elsewhere until he'd had his breakfast, though at her table he fidgets, toying with his spoon until she sits down next to him.
"Haven't seen Goldie, have you?" he says.
Goldie, their oldest sister. Goldie, who lives with him, with their father and the others. "Goldie?"
"Hasn't been home for a while. Three days, actually."
"What do you mean?"
"She went out --- to shop, I think, or Celia thinks. She had a shopping bag with her, Celia said."
"But Celia doesn't know."
"No. Celia doesn't."
"But she thinks Goldie went shopping."
"Went shopping and didn't come back."
"Three days ago."
"Well, two or three days."
"Three days ago was Sunday. Where does she shop on Sunday? She's never shopped on Sunday."
"She went somewhere then. Maybe" --- and here Irving hesitates --- "maybe to the Falls."
"And didn't come back," Sadie says.
"No."
"She often does go to the Falls," Sadie says. "Often has."
She pours more coffee, and focuses on the burgundy rings edging the saucers, the lips of the cups. One teaspoon of sugar for Irving. "Did she go to the Falls alone, or go shopping alone, whatever it is she did?"
He shrugs.
"No one called? No one came by for her?"
He fiddles with the unlit cigar. "I was out. I wasn't there."
"For three days you were out."
"More or less," he says. "Asleep when I was there."
"But you must have noticed."
"Goldie harps," he says. "I avoid her."
. . .
other members of the family are prone to disappearing, usually in absurd ways. Celia's age means nothing --- she's twenty-seven but impulsive --- and she turns up on docked streetcars and in speakeasies and sometimes at barbershops after following men. When Irving disappears, he returns whiskey-soaked. But Goldie's smart, the oldest, the responsible one, thank God uncrazy: she does not disappear. Maybe she told Celia she'd visit a friend and Celia forgot. Or Celia changed the story, blending it with other stories, as is her habit. And anyway what does shopping mean? On a Sunday in a city bursting with Catholics, Lutherans, Episcopalians, a city bound to Sunday as the Lord's day. True, Goldie might have gone to a Jewish shop, or to the bakery: Celia could mean bakery by shopping. Sometimes you have to unravel Celia's code. Last year she called Goldie's piano lessons harbor walks.
Sadie hesitates. The crisis has begun and will be with them now. But she can stir the sugar in slowly, she can wait and drink coffee and slowly dress and then the control of speed will end, all control will end. She'll have to give over to this thing, this disappearance and its ripple effects, to the strangeness of her other sisters, to her father's strong will or denial --- you never know which it will be --- to Irving wandering and returning, with rumor and inebriation. Give over and do what must be done. Do not speculate.
So she delays. The two of them, Sadie and Irving, sit leisurely over coffee, suspend the moment, as if nothing is happening and someone else is actually in charge. July. There's a brief ease that feels lifted from childhood, when she and Irving seemed a family within the family --- a relaxed, affectionate little clan apart from their older sisters. Yet even as Sadie recognizes the sensation it fades, and she offers him jam and toast, the newspaper to read while she dresses for the day.
Alone in her bedroom, she senses that the morning has already become brittle and opaque, as if coated with burned milk. There's a bright fast ribbon of glee at the thought of canceling dinner with her mother-in-law, then the brittleness again.
it's a couple of miles to the family house on Lancaster, far enough to be another neighborhood, another set of shops and parks and schools if not a distinctly separate life. But often returning to Lancaster causes time to slip, and she needs to be mindful: she needs the linen dress and gold clip earrings, the lipstick and heels and whatever else she can summon. From the outside, the Lancaster house is disarming, a solid, well-kept wood-frame, off-white, surrounded by clipped green lawn and old elms, the shade of maples and oaks and the clean-swept front porch suggesting restful lives. Today the house is quiet, the foyer, the hallway and front parlor slightly disordered, but only that. The smell of burnt coffee wafts in from the kitchen; the house is alive with the smell. Her sisters always seem to drink coffee burnt, as if there is no other way. As Sadie passes the shaded dining room, the dark woodwork and table and cabinets hushing the place into a season other than summer, Irving hangs behind her and it seems --- is she imagining this? --- that she might turn and find herself alone.
"Where are they?" she says.
Irving's examining his wing tips again. "The store. Papa's at the store."
She pictures her father --- impeccable in a light brown suit, his dark shoes and spectacles and pale forehead shining in the heat, salt-and-pepper mustache exactingly trimmed --- checking velvet-lined jewelry cases for dust, squinting at smudges on the glass. "For how long?"
"He expects me there later."
"He opened for the day?" But her father has done as much at other times, worse times, leaving a pale gray blur in his place. From the parlor there's a glint of orange, which travels in Sadie's direction: Celia's cat, slinking through the hall, now sniffing at Sadie's pumps. "And Jo? What happened to Jo?"
Irving doesn't answer. The orange cat presses against Sadie, rubbing itself across her shin, turning, rubbing itself the other way. This is distracting: a tingling runs up Sadie's leg to the rest of her, pleasant and more pleasant and then unnerving, that strong tingling and the cat rubbing itself and loudly purring.
From the kitchen there's a clinking sound and the plash of water pouring into water. "Celia?" Sadie calls. She makes her way past the closets to the back stairwell and the kitchen, the cat closely escorting her. There are white daisies in a water glass on the enamel tabletop, squares of light through thick-paned windows; garden soil trails along the floor to the back entry and the porch. Celia's at the sink, scrubbing a saucepan, flecks of oatmeal sticking to her wrists. Her face is a clear white oval, eyes hazel and unrevealing, her dress pink cotton, unfamiliar, oddly girlish. Today she's combed her hair.
"Jo's at work," Celia says.
"When did she leave?" Sadie says.
"The usual time."
Both of them, then, Jo off to her secretarial job, their father to the jewelry store, as if nothing is wrong, and Goldie will reappear any moment, ready to look after the house and check in with Celia. It's tempting, she admits, to take their behavior as reassurance and assume that Irving has misread the signs, but she knows better: this is not the sort of thing Irving misreads.
"Let's sort this out," Sadie says. "Let's sit down and sort this out."
Celia dries her hands, picks up the orange cat. Vera, she calls it. She is unnerved, you can see by the way she clings to the cat, the way she sidles up to Sadie and eyes the kitchen door.
"What's this about Goldie shopping?" Sadie says.
Celia talks at the windows and the door --- or maybe it's to the yard beyond, the garden where she spends her summer. "She went shopping."
"On Sunday?"
Yes. Probably. Or Monday. No, Celia can't pinpoint the day for sure, it's possible that she saw Goldie again after the shopping, but that's not what she remembers. She does not know what Goldie shopped for. And she does not know where else Goldie might go --- but here Celia refocuses on the floor.
And Sadie knows better than to expect answers from Celia now, with that look and the cat purring against her chest. She's too distracted, and even when she isn't she's still ruled by impulse, a tendency to lie. But you have to make the effort.
"What was she wearing?" Sadie says.
"Brown skirt, white blouse."
"She was wearing a brown skirt and a white blouse?"

Excerpted from The First Desire © Copyright 2004 by Nancy Reisman. Reprinted with permission by Pantheon. All rights reserved.
The First Desire
by by Nancy Reisman
Genres: Fiction
hardcover: 320 pages
Publisher: Pantheon
ISBN-10: 0375423087
ISBN-13: 9780375423086