About the Book
About the Book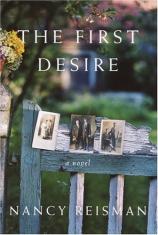 1929. Buffalo, New York. A beautiful July day, the kind one waits for through the long, cold winters. Sadie Feldstein, née Cohen, looks out her window at the unexpected sight of her brother, Irving. His news is even more unexpected, and unsettling: their elder sister, Goldie, has vanished without a trace.
With Goldie's disappearance as the catalyst, The First Desire takes us deep into the life of the Cohen family and an American city, from the Great Depression to the years immediately following World War II. The story of the Cohens is seamlessly told from the various perspectives of siblings Sadie, Jo, Goldie, and Irving --- each of whose worlds is upended over the course of the novel, the smooth veneer of their lives giving way to the vulnerabilities and secrets they've managed to keep hidden --- and through the eyes of Lillian, the beautiful woman their father, Abe, took as a lover as his wife was dying. But while Abe's affair with Lillian stuns his children, they are even more shocked by his cold anger in the wake of Goldie's disappearance.
The First Desire is a book of great emotional power that brings to life the weave of love, grief, tradition, and desire that binds a family together, even through the tumultuous times that threaten to tear it apart.
The First Desire
by Nancy Reisman
Publication Date: September 14, 2004
Genres: Fiction
Hardcover: 320 pages
Publisher: Pantheon
ISBN-10: 0375423087
ISBN-13: 9780375423086