Reading Group Guide
Discussion Questions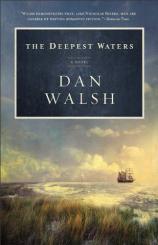 1. Which of the three main characters (John, Laura, or Micah) became your favorite and why?
2. Why was Laura so impressed with the depth of Micah's faith compared to her own? How could someone who didn't even know how to read develop such a strong walk with God?
3. What aspects of John and Laura's love story did you enjoy the most and why? Do you think they had the kind of love that would stand the test of time? If so, why?
4. What do you think most attracted John to Laura? How about Laura to John?
5. Why do you think John felt he couldn't tell Laura the truth about his family situation before the voyage? Do you think he made the right call? Would you have handled this differently?
6. John and the other men adrift at sea faced the likelihood of imminent death. How do you think John handled these moments? Did the scenes ring true to you? Have you ever faced a time where you thought your life was in danger?
7. John's family in New York had many problems. What do you see as their biggest ones? Do you see these problems as being relevant challenges today or only things people in that era would face?
8. Did you learn any fascinating details about the history of the period, things you never knew before?
9. Were you aware that many Christians in the South accepted and defended the right to own slaves? How did they justify this? How would you have handled this issue if you had lived in the South at that time?
10. Did you have a favorite scene in the book? How did you respond to it and what made it your favorite?
11. How would you classify this novel: as a love story, an inspirational tale, or a novel of suspense?
12. Did you catch that The Deepest Waters was inspired by true events before reading it through? If so, while reading it did you wonder what parts of the story were factual and what parts were fiction? The author made a list at the end of the book that showed which things really happened. How good were your guesses?
13. Did you find the ending satisfying? Do you see this as a good resolve for the Foster family? Are there any future stories you think this family has left to tell? (If so, feel free to send them to the author, Dan Walsh, at [email protected].)
The Deepest Waters
by Dan Walsh
Publication Date: April 1, 2011
Genres: Christian, Historical Romance
Paperback: 300 pages
Publisher: Revell
ISBN-10: 0800719808
ISBN-13: 9780800719807