Reading Group Guide
Discussion Questions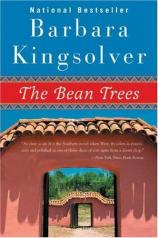 1. The Bean Trees deals with the theme of being an outsider. In what ways are various characters outsiders? What does this suggest about what it takes to be an insider? How does feeling like an outsider affect one's life?
2. How and why do the characters change, especially Lou Ann, Taylor, and Turtle?
3. In many ways, the novel is "the education of Taylor Greer." What does she learn about human suffering? about love?
The Bean Trees
by Barbara Kingsolver
Publication Date: March 29, 1989
Genres: Fiction
Paperback: 240 pages
Publisher: Harper Perennial
ISBN-10: 0060915544
ISBN-13: 9780060915544