Reading Group Guide
Discussion Questions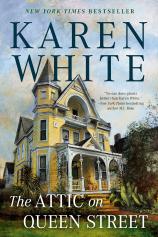 1. Melanie's growth is a running theme throughout the book. Do you think she has changed? If so, how? Do you think her growth is related to newfound confidence and trust in herself, and less reliance on Jack?
2. Do you think Jack and Melanie are a good match? What do you think they learned about themselves and about their relationship?
3. Nola has been an important character in the series and has a pivotal role in this book. How do you think she serves as a foil for Melanie? And as a complement to Melanie?
4. This is the final novel in the Tradd Street series but a beginning in many ways for the primary characters. What do you think will happen next for Melanie, Jack, Nola and the rest of the family?
5. The city of Charleston has played a huge role in this series, with the author using real bits of history, local lore and real places that ground the series in authenticity. What are your favorite bits of knowledge you've learned about Charleston through the series?
6. Melanie isn't familiar with the actors who have been cast in the film adaptation of Marc Longo's book, though she has her own opinions on who would've been appropriate to play her and Jack. Who would you fancast to play Melanie, Jack, Nola and the rest of the characters in THE ATTIC ON QUEEN STREET?