About the Book
About the Book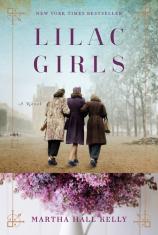 Based on a true story of a New York socialite who championed a group of concentration camp survivors known as the Rabbits, this acclaimed debut novel reveals a story of love, redemption and terrible secrets that were hidden for decades.
Caroline Ferriday is a former Broadway actress and liaison to the French consulate whose life is forever changed when Hitler's army invades Poland in September 1939 --- and then sets its sights on France. An ocean away from Caroline, Kasia Kuzmerick, a Polish teenager, sinks deeper into her role as a courier for the underground resistance movement. In Germany, Herta Oberheuser, a young doctor, answers an ad for a government medical position --- only to find herself trapped in a male-dominated realm of Nazi secrets and power.
The lives of these three women are set on a collision course when the unthinkable happens and Kasia is sent to Ravensbrück, the notorious Nazi concentration camp for women. Their stories cross continents, as Caroline and Kasia strive to bring justice to those whom history has forgotten.