About the Book
About the Book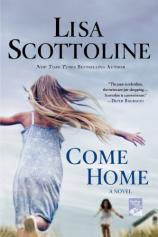 Lisa Scottoline has delivered taut thrillers with a powerful emotional wallop in her New York Times bestsellers SAVE ME, THINK TWICE and LOOK AGAIN. Now, with her new novel, COME HOME, she ratchets up the suspense with the riveting story of a mother who sacrifices her future for a child from her past.
Jill Farrow is a typical suburban mom who has finally gotten her and her daughter's lives back on track after a divorce. She is about to remarry, her job as a pediatrician fulfills her --- though it is stressful --- and her daughter, Megan, is a happily over-scheduled 13-year-old juggling homework and the swim team.
But Jill's life is turned upside down when her ex-stepdaughter, Abby, shows up on her doorstep late one night and delivers shocking news: Jill's ex-husband is dead. Abby insists that he was murdered and pleads with Jill to help find his killer. Jill reluctantly agrees to make a few inquiries and discovers that things don't add up. As she digs deeper, her actions threaten to rip apart her new family, destroy their hard-earned happiness, and even endanger her own life. Yet Jill can't turn her back on a child she loves and once called her own.
COME HOME reads with the breakneck pacing of a thriller while also exploring the definition of motherhood, asking the questions: Do you ever stop being a mother? Can you ever have an ex-child? What are the limits to love of family?