About the Book
About the Book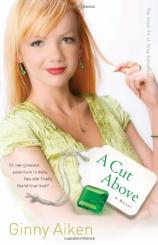 Falling in love was never so... stressful.
Despite her objections, Andie Adams is on her way to Colombia to broker a deal on some of the most fabulous emeralds in the world --- and she's going alone. Maybe this time she can make the trip without any major drama.
But before Andie can even get close to the mines, everything turns Twilight Zone weird. The guide who is supposed to meet her at the airport doesn't. Her high school Spanish goes AWOL. And her taxi driver treats her to a South American–style tour of Bogotá not for the faint of heart.
But that's nothing compared to what's next.
Can S.T.U.D. co-host Max get Andie out of there alive? And what will this dangerous trip mean for their reluctant romance?
A Cut Above: Shop-Til-U-Drop, Book Three
by Ginny Aiken