About the Book
About the Book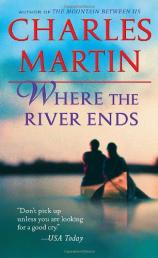 He was a fishing guide and struggling artist from a south George trailer park. She was the beautiful only child of South Carolina's most powerful senator. Yet once Doss Michaels and Abigail Grace Coleman met by accident, they each felt they'd found their true soul mate.
Ten years into their marriage, when Abbie faces a life-threatening illness, Doss battles it with her every step of the way. And when she makes a list of ten things she hopes to accomplish before she loses the fight for good, Doss is there, too, supporting her and making everything possible. Together they steal away in the middle of the night to embark upon a 130-mile trip down the St. Mary's River—a voyage Doss promised Abbie in the early days of their courtship.
Where the River Ends chronicles their love-filled, tragedy-tinged journey and a bond that transcends all.
Where the River Ends
by Charles Martin
Publication Date: April 26, 2011
Mass Market Paperback: 400 pages
Publisher: Broadway
ISBN-10: 0307888290
ISBN-13: 9780307888297