About the Book
About the Book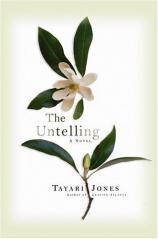 Her debut novel, Leaving Atlanta, was declared "mesmerizing" (Marie Claire) and selected as one of the best books of the year by the Washington Post. She was praised as a "powerful storyteller" (Publishers Weekly) for her "eloquent voice" (People). Now, in her latest novel, Tayari Jones paints a vivid, unforgettable portrait of a woman seeking to overcome the trauma of her past.
When Aria Jackson was nine, a car accident killed her father and baby sister, forever destroying her family's secure middle-class life. The tragedy left her elegant mother, her rebellious sister, and Aria herself wounded by grief, rage, and guilt. Caught between her mother's bitter dissatisfaction and her sister's efforts to distance herself from the family altogether, Aria grew up alone, despite sharing a crowded home with her mother and sister.
At age twenty-five, Aria has created a meaningful life for herself, living in a not-quite gentrified inner-city neighborhood, teaching literacy to teenaged girls. For the first time in her life, she has both a best girlfriend in whom she can confide and a boyfriend who offers her love and respect.
When Aria discovers she may be pregnant, she is seduced by the promise of family, the lure of a normal life, and the dream of a fresh start. Then everything changes in ways she never anticipated. As she mediates between her past and her altered reality, she unearths secrets about family and friends and searches for the courage to divulge one heartbreaking revelation about herself.
Poignant, evocative, and luminously insightful, The Untelling speaks of the truths we hide even from ourselves, the circumstances that can either undermine or restore us, and the transformative power of examining all that we keep untold.
The Untelling
by Tayari Jones
Publication Date: April 18, 2005
Genres: Fiction
Hardcover: 336 pages
Publisher: Warner Books
ISBN-10: 0446532460
ISBN-13: 9780446532464