About the Book
About the Book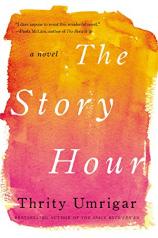 As a dedicated and seasoned practitioner, psychologist Maggie prides herself on her ability to remain professionally detached from her patients. But when a young Indian woman ends up at her hospital after a suicide attempt, Maggie finds herself ignoring all the rules.
Lakshmi, who left all her family behind when she immigrated to America, is desperately lonely and trapped in a loveless marriage, her life circumscribed by the walls of her husband's small Indian restaurant and grocery store. Ending her life feels like the only way out of her misery.
Deeply affected by Lakshmi's loneliness and disturbed by her domineering husband, Maggie impulsively offers to treat her as an out-patient, free of charge. However, when the sessions begin in Maggie's home office, it's apparent that Lakshmi doesn't really need a doctor; she needs a friend. Maggie abandons protocol, determined to empower Lakshmi as a woman who feels valued in her own right, and the two develop a powerful relationship that is full of affection but also warped by conflicting expectations. Blossoming, on the road to healing her marriage, Lakshmi finally shares the reason for her departure from India --- and inadvertently discovers that Maggie has a dark secret of her own. These revelations jeopardize everything they have worked so hard to build, forcing them to confront some extremely difficult choices.
This jewel of a novel once again demonstrates that few writers capture the complexities, challenges, and rewards of love --- both platonic and romantic --- like Thrity Umrigar. In an achingly human story about our capacity for faith, forgiveness and hope, she allows us to celebrate the power of second chances.
The Story Hour
by Thrity Umrigar
Publication Date: July 28, 2015
Genres: Fiction
Paperback: 352 pages
Publisher: Harper Perennial
ISBN-10: 0062259318
ISBN-13: 9780062259318