Reading Group Guide
Discussion Questions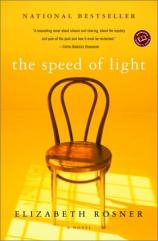 1. The Speed of Light features three very distinctive characters and their struggles to overcome the difficulties of their past. Which character did you relate to the most, and why?
2. The novel ends with each character on the brink of a new discovery. What do you imagine happens after the end of the book? What do you think the future holds for Sola, Julian, and Paula?
3. Compare and contrast how the presence of color, scent, and sound informs the lives of Julian, Paula, and Sola.
4. In the novel, bearing witness to tragedy implies a responsibility held by both the person telling the story and the person listening. How do you think these responsibilities differ? Do you agree with Sola that each role is important in the healing process? Do you think this idea is applicable to the world today?
5. Did any of the characters or scenes from The Speed of Light stay with you after you finished reading the book? If so, which ones and why?
6. The bonds of family are a central theme in the novel-both the secrets and silences that arise, as well as the close relationships formed between parent and child, brother and sister. Are there any feelings in the book that resonate with your own family experiences? Do you think this kind of complexity is common to the American family today?
The Speed of Light
by Elizabeth Rosner
Publication Date: April 1, 2003
Genres: Fiction
Paperback: 272 pages
Publisher: Ballantine Books
ISBN-10: 0345442253
ISBN-13: 9780345442253