About the Book
About the Book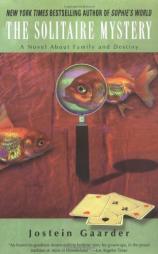 When twelve-year-old Hans Thomas and his father set out by car from Norway to search for Hans Thomas's mother in Greece, he is unaware that his life will be changed forever. The bewildering disappearance of his mother many years earlier to "find herself" is just the first of many mysteries he will encounter.
Punctuated by frequent cigarette stops that allow Hans Thomas's father both to smoke and to philosophize about the universe, the journey also features some unusual occurrences: a midget presents Hans Thomas with a magnifying glass and gives them directions that take them miles out of their way to a village named Dorf; the baker in Dorf gives Hans Thomas a bag of sticky-buns, the largest containing a miniature book that is the memoir of a sailor shipwrecked in 1842; and a strange man reappears inexplicably several times along the way. Hans Thomas begins to read the tiny book with the magnifying glass and discovers an amazing connection between himself and the sailor, who describes finding himself on an island where a deck of cards has come to life. Gradually Hans Thomas unravels the mystery of the cards, and the knowledge he gains of the distant past sheds a surprising light on his own life.
The Solitaire Mystery ----the follow-up to the New York Times bestselling Sophie's World---- ingeniously incorporates fantasy and philosophy, fairy tale and family history. It will leave the reader filled with wonder at our very existence, and dazzled by the Great Solitaire that is the story of humankind.
The Solitaire Mystery
by Jostein Gaarder
Publication Date: November 1, 1997
Mass Market Paperback: 336 pages
Publisher: Berkley Trade
ISBN-10: 042515999X
ISBN-13: 9780425159996