Reading Group Guide
Discussion Questions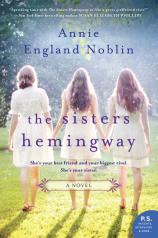 1. Rachael made the greatest sacrifice for her daughter. To what extent has this sacrifice formed the grown-up personalities of her other daughters?
2. After Pfeiffer loses her job, she seems to lose her identity. How much of your own identity is tied to what you may do for a living?
3. Each of the present-day sisters left Cold River and "never looked back…" until now. In what ways does the place you grew up influence the person you are today?
4. Aunt Beatrice chose never to speak out loud, but we learn about her through her diary entries. At one point she says that "Maryann says all women ought to have a secret or two…" Do you agree or disagree with that statement? Why?
5. Do you think Beatrice ever regretted her decision to take care of the three sisters?
6. Pfeiffer states about Brody that "Everybody changes," but also tells her sister Hadley that "I bet he's basically the same guy you've always known." Do you think she's right about him? Do you think this holds true for most people, or not?
7. At one point it's said that the sisters had spent too many years forgetting about "the good stuff in the middle" between living and dying. Avoiding love and life. Why is it sometimes easier to be angry in silence than to talk and face the truth?
8. Do you think there was a ghost?