Reading Group Guide
Discussion Questions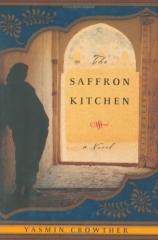 1. The Middle East is very much in the news these days, and perhaps never before has it been more on the mind of Westerners. What issues did The Saffron Kitchen bring up for you, and did it change or influence your idea of Iran in any way?
2. Maryam says she hits Saeed to make him strong, just as her own father hit her as a girl. Do you believe this? Why or why not? Discuss the reasons you think Maryam feels so angry at Saeed. What does he represent to her? Why do you think some abused people grow up to continue that abuse, while others vow never to repeat the "sins of their fathers"?
3. When Maryam returns home (p. 28) after taking Sara to the hospital, she says to herself, "I should never have left." What is she referring to? The hospital? Iran? And what does she mean by this? How does her statement foreshadow what happens in the rest of the novel?
4. What is the moral of the Gossemarbart story and how does it relate to Maryam's own story? Discuss the symbolism of the stone woman and its significance in the novel.
5. "Your father was kind to us before his death," Hassan tells Maryam upon her return (p. 116). Was there any good in this man? Was he a product of his time and traditions? What makes a man like Maryam's father turn out the way he does in contrast with a man like Doctor Ahlavi?
6. Sara and Saeed form a strong connection with one another. Talk about the things they have in common, the things that make them different, and how they might derive comfort from one another.
7. Farnoosh, Hassan's unmarried daughter, says to Maryam, "You think [having your family is] enough? When you leave yours behind? Please don't patronize me" (p. 128). Can you explain Farnoosh's point of view? Do you see Maryam as selfish? Why or why not?
8. "For each freedom we choose, we must give up another," Maryam says (p. 128). What does she mean in terms of her own life? Do you agree or disagree, and why?
9. What do you think Maryam wants for Sara? Does Sara have a right to be angry at her mother? How would you feel, as a daughter or son, if your mother left you to return to the place of her birth?
10. Where does Maryam's love for Iran end and her love for Ali begin? Are they separate?
11. Discuss how the author uses the color saffron as a symbol throughout the novel. What does it represent, to Maryam, to Sara, to Saeed?
12. Think about the different worlds to which you belong. Consider the transitions between these worlds and discuss how navigating these transitions affects your life.
The Saffron Kitchen
by Yasmin Crowther
Publication Date: December 28, 2006
Hardcover: 272 pages
Publisher: Viking Adult
ISBN-10: 0670038113
ISBN-13: 9780670038114