Reading Group Guide
Discussion Questions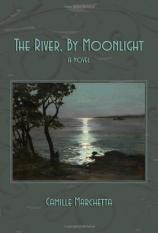 1. In the introductory pages of the book, a few lines of poetry are quoted. These are from Alfred Lord Tennyson's "The Lady of Shalott". Why did the author choose these lines? Is there a thematic relationship between the poem and the book?
2. The novel is set in 1917, at the start of the First World War. Is this period crucial to the novel's themes or would its story have worked just as well in another era? If so, when?
3. Although written in the third person, each of the book's chapters is told from the point of view of one of the characters. Why do you think the author chose this structure? In your opinion, does it add anything to the novel or would a more straight forward narrative have worked better?
4. Erich Roeder, a family friend, is the only one who seems to know of Titus Canning's secret life. Do you think any of the other characters suspect the truth? Does his wife, Henrietta? She says of herself that she's not one to think the worst unless she must. Do you think this is foolish of her, or only sensible?
5. As different as they apparently are, Dr. Roeder and Edmund Farel have similar political views. In what ways do their views coincide? Do any of the other characters feel as they do? Do their views have any relevance in today's world?
6. They were best friends all their lives; still, Rosaline's relationship with Lily seems almost too good to be true, with little or no friction. Is this possible, or is Rosaline deluding herself? Is her desire to destroy Lily's painting as well-intentioned as she thinks it is? Does any good come out of her deciding not to?
7. It is obvious that Florence feels almost totally unloved. Is she? And how does this feeling affect her relationships with other people?
8. Nuala believes that, given time, Louis would have come to love her sister, Deirdre, and that the two would have married and lived happily ever after. Do you think this would have been possible, given the difference in their circumstances, or is the idea just a reflection of Nuala's essentially optimistic nature?
9. Teddy has very mixed reactions to Lily's work. Do you think he can judge her talent objectively? Or is his vision obscured by other emotions?
10. Although it's hard to resist blaming Edmund, he does make a case against Lily for contributing to the failure of their relationship: her selfishness, her inflexibility, her inability to adapt herself to his needs. Do you think his complaints are in any way justified?
11. All of Lily's family and friends, in one way or another, hold Edmund responsible for her breakdown and death. Do you think he is? And, if so, in what way?
12. Lily had everything to live for, so everyone says. Even Lily seems aware of how much she has to be grateful for. Why then was she in such despair about her life?
13. Her cousin, Louis, is convinced that he could have saved Lily. Do you think that's true? Could anyone have saved her?
14. Rosaline believes that Lily's death has had a profound effect on the lives of all who were close to her. Do you agree?
15. While Lily's depression blighted her life, Nuala, who had none of Lily's advantages, by the end of the novel, has made a great success of hers. How do you account for this difference?
The River, By Moonlight
by Camille Marchetta
Publication Date: August 1, 2007
Paperback: 376 pages
Publisher: Virtualbookworm.com Publishing
ISBN-10: 1602640173
ISBN-13: 9781602640177