Reading Group Guide
Discussion Questions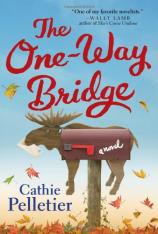 1. Cathie Pelletier uses humour to navigate through numerous themes of THE ONE-WAY BRIDGE (family, loneliness, love, sacrifice). How does this technique shape her characters and the overall message of the book?
2. What did you think of the book's alternating viewpoints? In what ways did the characters' storylines parallel each other, and how did they diverge?
3. In what ways did the town's remoteness perpetuate the inner struggles of the characters? How did the outside world spark change?
4. Why does Harry Plunkett's absurd mailbox strike a chord with Orville Craft? After reading the novel what do you think the underlying causes of their feud were?
5. Billy Thunder and Harry Plunkett are from two different worlds, but they seem to have an unspoken bond that develops throughout the book. What do you think they see in one another?
6. Near the end of the novel, Edna thinks, "that maybe marriage is like Monet and his garden. It's reciprocal." What does she mean by this? In what ways do the other relationships found within the novel share this reciprocity?
7. One of the major themes of the book is inner conflict. Which character's conflict did you identify with most? If faced with the same issue, how would you have confronted it differently?
8. At the end of the novel, the rivalry between Harry and Orville comes to head at the town's one-way bridge. What is symbolic about this particular setting?
The One-Way Bridge
by Cathie Pelletier
Publication Date: May 7, 2013
Genres: Fiction
Hardcover: 304 pages
Publisher: Sourcebooks Landmark
ISBN-10: 1402280734
ISBN-13: 9781402280733