Reading Group Guide
Discussion Questions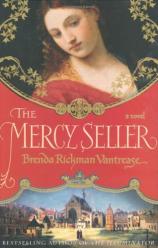 1. The Mercy Seller is a book about loyalty and the ordering of priorities. Gabriel has taken an oath to the Church and to his Dominican Order. What do you think of the choices he makes when that allegiance comes into conflict with his loyalty to Anna and their child?
2. To whom does Anna owe a debt of loyalty? In what ways does she—or doesn't she—keep her promises?
3. What loyalty do Sir John and the king owe to each other, and how do they discharge their debts? Can you draw contemporary parallels where private and public loyalties come into conflict?
4. Anna and Gabriel travel great distances, both physically and spiritually, in the course of the book. What do they gain and lose on their journeys?
5. How do you regard the risks that such characters as Finn, Kathryn, and Sir John are prepared to take in service of their beliefs? What about when those risks endanger other people?
6. Would you say Father Francis is a good priest given the times in which he lived?
7. From the perspective of the previous questions: Who is traitor? Who is villain? Who is hero?
8. How is the idea that "clothes make the man" exemplified in Gabriel's apparel and behavior? Cite differences in the way he behaves and the way others react to him depending on which costume he is wearing.
9. What is the symbolism of water throughout the book?
10. What kind of future do you envision for Anna and Gabriel? How does that compare with the marriage of Sir John and Lady Joan? If you have read the author's previous novel, The Illuminator, how do you feel about the resolution of the relationship between Kathryn and Finn?