Excerpt
Excerpt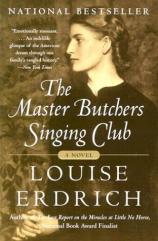 Chapter One
The Last Link
Fidelis walked home from the great war in twelve days and slept thirty-eight hours once he crawled into his childhood bed. When he woke in Germany in late November of the year 1918, he was only a few centimeters away from becoming French on Clemenceau and Wilson's redrawn map, a fact that mattered nothing compared to what there might be to eat. He pushed aside the white eiderdown that his mother had aired and restuffed every spring since he was six years old. Although she had tried with repeated scrubbings to remove from its cover the stains of a bloody nose he'd suffered at thirteen, the faint spot was still there, faded to a pale tea-brown and shaped like a jagged nest. He smelled food cooking -- just a paltry steam but enough to inspire optimism. Potatoes maybe. A bit of soft cheese. An egg? He hoped for an egg. The bed was commodious, soft, and after his many strange and miserable beds of the past three years, it was of such perfect comfort that he'd shuddered when first lying down. Fidelis had fallen asleep to the sound of his mother's quiet, full, joyous weeping. He thought he still heard her now, but it was the sunlight. The light pouring through the curtains made a liquid sound, he thought, an emotional and female sound as it moved across the ivory wall.
After a while he decided that he heard the light because he was clean. Disorientingly clean. Two nights ago, before he'd entered the house, he begged to bathe in a washtub out in the tiny roofed courtyard, beneath the grape arbor. They built a fire to warm the water. His sister, Maria Theresa, picked the lice from his hair and his father brought fresh clothing. In order to endure all that the war necessitated, including his own filth, Fidelis had shut down his senses. As he opened to the world again, everything around him was distressingly intense and all things were possessed of feeling, alive, as in a powerful dream.
Quietness reverberated in his head. Ordinary sounds, people outside in the streets, seemed marvelous as the chatter of rare monkeys. A thrill of delight crashed through him. Even to put on his clean and vermin-free clothing was a task so full of meaning that the fastening of his grandfather's gold boar's-head cuff-links nearly made him weep. Breathing low, he collected himself, and stilled his tears with the power of his quietness. Ever since he was a child, when sorrow had come down upon him, he'd breathed lightly and gone motionless. As a young soldier, he'd known from the first that in his talent for stillness lay the key to his survival. It had carried him through the war as a pitifully green recruit of whom it was soon discovered that, from a sniping post, he could drill a man's eye at 100 meters and make three of five shots. Now that he was home, he understood, he must still be vigilant. Memories would creep up on him, emotions sabotage his thinking brain. To come alive after dying to himself was dangerous. There was far too much to feel, so he must seek, he thought, only shallow sensations. Now he tried to adjust. He must slowly awaken even to this childhood room he knew so well.
He sat down at the edge of the bed. On a thick shelf set into the wall, his books stood in lines, or stacked as he'd left them, marked with thin strips of paper. For a time, though his occupation was assured, he'd cherished the vision of himself as a poet. Therefore his shelves were stacked with volumes of his heroes, Goethe, Heine, Rilke, and even Trakl, hidden behind the others. He looked at them now with dull curiosity. How could he ever have cared what such men said? What did their words matter? His childhood history was also in this room, his toy soldiers still arranged on the sill. And his young man's pride: his diplomas and his guild papers framed on the wall. These things did matter. These papers represented his future. His survival. In the closet, his bleached, starched, and pressed white shirts hung ready to embrace him. His polished shoes waited on the shelf beneath for the old Fidelis to put his feet into them. Gingerly, Fidelis tried to slide his feet into the open maws of the stiff shoes, but they wouldn't go. His feet were swollen, tender from frostbite, peeling, painful. Only his hobnailed boots fit, and they were green inside and stank of rot.
Slowly, he turned to contemplate the day. His bedroom window was a long, golden rectangle. He rose and opened the window, using the ram's-horn curl of its handle, and looked out, over Ludwigsruhe's slow, brown river, over the roofs and dead late-fall gardens on its opposite bank, across a patchwork of tender, gray fields, and then a tiny complex of roofs and chimneys beyond. Somewhere in that next town's maze lived the woman he had never met before, but had promised to visit. He found himself thinking about her with a complex intensity. His thoughts formed questions. What was she doing now? Had she a garden? Was she gathering the final few dusty potatoes from a small, raised, straw-covered berm? Was she hanging out her laundry fresh and white on a piece of icy rope? Was she talking, over tea, to her sister, her mother? Was she singing to herself? And his own presence, what he had promised to tell her. How could he go through with it, and also, how could he not?
Eva Kalb, 17 Eulenstrasse. Fidelis stood before the blond-brick walkway, frowning at the frail cast-iron arbor that marked the entrance. The ironwork was threaded with the tough overgrowth of climbing rose stalks …
Excerpted from THE MASTER BUTCHERS SINGING CLUB © Copyright 2004 by Louise Erdrich. Reprinted with permission by Perennial, an imprint ofHarperCollins. All rights reserved.
The Master Butchers Singing Club
by by Louise Erdrich
Genres: Fiction
paperback: 416 pages
Publisher: Harper Perennial
ISBN-10: 0060935332
ISBN-13: 9780060935337