Reading Group Guide
Discussion Questions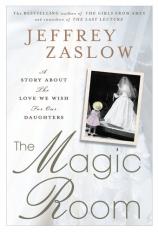 1. Discuss Jeffrey Zaslow's decision to explore "how all of us can best show love to our daughters" (p. xiv) by examining the world of Becker's Bridal. Do you agree that a bridal salon is the ideal setting? What are some other places that would have worked as well?
2. How do you think the idea of "love" has changed over time?
3. Zaslow researched the history of marriage in THE MAGIC ROOM. How has our outlook on weddings changed over time? Is it for the better?
4. Of the many women Zaslow profiles, whose story resonates with you most and why?
5. If you are married, did THE MAGIC ROOM reaffirm the decision you made regarding your dress? If you are unmarried, did the book affect the way you may one day approach your purchase?
6. Discuss the unusual vows that Erika and her sisters made. Do you think divorce rates would be lower if most men and women took a similar vow?
7. How did you feel about Julie's decision to remarry so soon after she became a widow?
8. Becker's Bridal is in a constant struggle for survival, in part, because some budget-conscious brides find their gowns at Becker's and then order them online for less. Has reading THE MAGIC ROOM made you reconsider your own shopping habits?
9. "In the 1930s, wedding dresses were still expected to be multifunctional, rather than one-time-only fashion statements. A lot of women would wear their gowns at their weddings, and then months later, dye or hem them for other important occasions, or even as maternity wear" (p. 39). In our age of reduce, recycle, and reuse, should this practice be revived? What do you think of the recent trend toward "trashing the dress"?
10. "Despite Eva's clear lack of a soft spot, she was a trailblazer as a woman in the workplace. She not only kept the business afloat but expanded it at a time when women were almost exclusively in the home" (p. 43). Do women today still need to be as tough as Eva in order to succeed?
11. Did Shelley make the right decision to take over Becker's Bridal? Should Alyssa follow in her footsteps?
12. Have you read THE GIRLS FROM AMES? How would you say the female relationships between friends and mothers/daughters differ?
The Magic Room: A Story About the Love We Wish for Our Daughters
by Jeffrey Zaslow
Publication Date: December 27, 2011
Genres: Marriage, Nonfiction
Hardcover: 304 pages
Publisher: Gotham
ISBN-10: 1592406610
ISBN-13: 9781592406616