About the Book
About the Book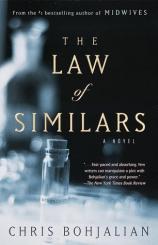 The questions, discussion topics, and author biography that follow are designed to enhance your group's reading of Chris Bohjalian's The Law of Similars. In this riveting novel, a lawyer risks everything to protect a young woman whose practice of alternative medicine leads to a legal inquiry and raises profound questions about the links between hope and hubris, love and deception.
In his widely acclaimed, controversial bestseller Midwives, Bohjalian described the trial of a midwife who is accused of manslaughter when a home birth goes tragically wrong. In The Law of Similars, Bohjalian weaves a compelling tale around homeopathy, an area as steeped in controversy and ambiguities as midwifery. Once again, he creates a world in which passionate beliefs and desperate needs fatefully collide with the strictures of the law and the prejudices of society.
During the two difficult years following his wife's death in a car accident, Leland Fowler devotes himself entirely to raising his small daughter Abby, and to his job as Chief Deputy State's Attorney of Vermont. The strain of making Abby's life as normal as possible, of spending exhausting days in court prosecuting petty criminals, and of negotiating the sometimes treacherous twenty-mile commute between his home and office finally takes its toll. Suffering from a chronic sore throat impervious to conventional medical treatment, Leland seeks the help of homeopath Carissa Lake. In an office decorated with evocative murals of Paris and a ceiling sparkling with painted stars, Carissa provides a cure not only for his sore throat, but for the aching loneliness that lies at the root of his symptoms. A magical Christmas Eve with Carissa reawakens Leland's abilities to love and to dream about the future. His dream is abruptly shattered the day after Christmas when one of Carissa's patients falls into an allergy-induced coma and his wife accuses Carissa of suggesting a dangerous treatment for her husband's asthma. As the State's Attorneys Office gears up to investigate Carissa, Leland finds himself in the center of the controversy, face-to-face with a moral and ethical dilemma of enormous proportions.
The Law of Similars
by Chris Bohjalian
Publication Date: August 30, 2012
Genres: Fiction
Paperback: 336 pages
Publisher: Vintage
ISBN-10: 0679771476
ISBN-13: 9780679771470