Excerpt
Excerpt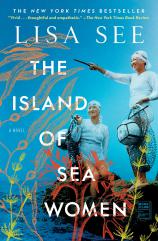 Swallowing Water Breath
April 1938
My first day of sea work started hours before sunrise when even the crows were still asleep. I dressed and made my way through the dark to our latrine. I climbed the ladder to the stone structure and positioned myself over the hole in the floor. Below, our pigs gathered, snuffling eagerly. A big stick leaned against the wall in the corner in case one of them became too enthusiastic and tried to leap up. Yesterday I'd had to hit one pretty hard. They must have remembered, because this morning they waited for my private business to drop to the ground to fight among themselves for it. I returned to the house, tied my baby brother to my back, and went outside to draw water from the village well. Three round trips, carrying earthenware jugs in my hands, were required to get enough water to satisfy our morning needs. Next, I gathered dung to burn for heating and cooking. This also had to be done early, because I had a lot of competition from other women and girls in the village. My chores done, my baby brother and I headed home.
Three generations of my family lived within the same fence—with Mother, Father, and us children in the big house and Grandmother in the little house across the courtyard. Both structures were built from stone and had thatch roofs weighed down with additional stones to keep the island wind from blowing them away. The big house had three rooms: a kitchen, the main room, and a special room for women to use on their wedding nights and after they'd given birth. In the main room, oil lamps flickered and sputtered. Our sleeping mats had already been folded and stacked against the wall.
Grandmother was awake, dressed, and drinking hot water. Her hair was covered by a scarf. Her face and hands were bony and the color of chestnuts. My first and second brothers, twelve and ten years old, sat cross-legged on the floor, knees touching. Across from them, Third Brother squirmed as only a seven-year-old boy can. My little sister, six years younger than I was, helped our mother pack three baskets. Mother's face was set in concentration as she checked and double-checked that she had everything, while Little Sister tried to show she was already training to be a good haenyeo.
Father ladled the thin millet soup that he'd prepared into bowls. I loved him. He had Grandmother's narrow face. His long, tapered hands were soft. His eyes were deep and warm. His callused feet were almost always bare. He wore his favorite dog-fur hat pulled down over his ears and many layers of clothes, which helped to disguise how he sacrificed food, so his children could eat more. Mother, never wasting a moment, joined us on the floor and nursed my baby brother as she ate. As soon as she was done with her soup and the feeding, she handed the baby to my father. Like all haenyeo husbands, he would spend the rest of the day under the village tree in Hado's central square with other fathers. Together, they'd look after infants and young children. Satisfied that Fourth Brother was content in Father's arms, Mother motioned for me to hurry. Anxiety rattled through me. I so hoped to prove myself today.
The sky was just beginning to turn pink when Mother, Grandmother, and I stepped outside. Now that it was light, I could see my steamy breath billowing then dissipating in the cold air. Grandmother moved slowly, but Mother had efficiency in every step and gesture. Her legs and arms were strong. Her basket was on her back, and she helped me with mine, securing the straps. Here I was, going to work, helping to feed and care for my family, and becoming a part of the long tradition of haenyeo. Suddenly I felt like a woman.
Mother hoisted the third basket, holding it before her, and together we stepped through the opening in the stone wall that protected our small piece of property from prying eyes and the relentless wind. We wended our way through the olle—one of thousands of stone-walled pathways that ran between houses and also gave us routes to crisscross the island. We stayed alert for Japanese soldiers. Korea had now been a Japanese colony for twenty-eight years. We hated the Japanese, and they hated us. They were cruel. They stole food. Inland, they rustled livestock. They took and took and took. They'd killed Grandmother's parents, and she called them chokpari—cloven-footed ones. Mother always said that if I was ever alone and saw colonists, whether soldiers or civilians, I should run and hide, because they'd ruined many girls on Jeju.
We came around a corner and into a long straightaway. Ahead in the distance, my friend Mi-ja danced from foot to foot, to keep warm, from excitement. Her skin was perfect, and the morning light glowed on her cheeks. I'd grown up in the Gul-dong section of Hado, while Mi-ja lived in the Sut-dong section, and the two of us always met in this spot. Even before we reached her, she bowed deeply to show her gratitude and humility to my mother, who bent at her waist just enough to acknowledge Mi-ja's deference. Then Mother wordlessly strapped the third basket to Mi-ja's back.
"You girls learned to swim together," Mother said. "You've watched and learned as apprentices. You, Mi-ja, have worked especially hard."
I didn't mind that Mother singled out Mi-ja. She'd earned it.
"I can never thank you enough." Mi-ja's voice was as delicate as flower petals. "You have been a mother to me, and I will always be grateful."
"You are another daughter to me," Mother replied. "Today, Halmang Samseung's job is done. As the goddess who oversees pregnancy, childbirth, and raising a child to the age of fifteen, she is now fully released from her duties. Many girls have friends, but the two of you are closer than friends. You are like sisters, and I expect you to take care of each other today and every day as those tied by blood would do."
It was as much a blessing as a warning.
Mi-ja was the first to voice her fears. "I understand about swallowing water breath before going beneath the waves. I must hold as much air within me as possible. But what if I don't know when to come up? What if I can't make a good sumbisori?"
Swallowing water breath is the process all haenyeo use to gather enough air in their lungs to sustain them as they submerge. The sumbisori is the special sound—like a whistle or a dolphin's call—a haenyeo makes as she breaches the surface of the sea and releases the air she's held in her lungs, followed by a deep intake of breath.
"Sucking in air shouldn't be troublesome," Mother said. "You breathe in every day as you walk about the earth."
"But what if I run out of it in the watery depths?" Mi-ja asked.
"Breathing in, breathing out. Every beginning haenyeo worries about this," Grandmother blurted before my mother could answer. She could be impatient with Mi-ja.
"Your body will know what to do," Mother said reassuringly. "And even if it doesn't, I will be there with you. I'm responsible for every woman's safe return to shore. I listen for the sumbisori of all women in our collective. Together our sumbisori create a song of the air and wind on Jeju. Our sumbisori is the innermost sound of the world. It connects us to the future and the past. Our sumbisori allows us first to serve our parents and then our children."
I found this comforting, but I also became aware of Mi-ja staring at me expectantly. Yesterday we'd agreed to tell my mother of our worries. Mi-ja had volunteered hers, but I was hesitant about revealing mine. There were many ways to die in the sea, and I was scared. My mother may have said that Mi-ja was like a daughter—and I loved her for loving my friend—but I was an actual daughter, and I didn't want her to see me as less than Mi-ja.
I was saved from having to say anything when Mother started walking. Mi-ja and I trailed after her, with Grandmother following us. We passed house after house—all made of stone with thatch roofs. The main square was deserted except for women, who were being pulled to the sea by the scent of salt air and the sound of waves. Just before reaching the beach, we stopped to pick a handful of leaves from a bank of wild mugwort, which we tucked into our baskets. We turned another corner and reached the shore. We stepped over sharp rocks, making our way to the bulteok—the fire space. It was a round, roofless structure made of stacked lava rocks. Instead of a door, two curved walls overlapped to prevent those outside from seeing in. A similar structure sat in the shallows. This was where people bathed and washed their clothes. And just offshore, where the water reached no higher than our knees, was an area walled with stone. Here, anchovies washed in at high tide, were trapped at low tide, and then we waded through with nets to catch them.
We had seven bulteoks in Hado—one for each neighborhood's diving collective. Our group had thirty members. Logic would say that the entrance should face the sea, since haenyeo go back and forth from it all day, but having the entrance at the back gave an added barrier against the constant winds blowing in from the water. Above the crash of waves, we could hear women's voices—teasing, laughing, and shouting well-worn gibes back and forth. As we entered, the gathered women turned to see who'd arrived. They all wore padded jackets and trousers.
Mi-ja set down her basket and hurried to the fire.
"No need for you to worry about tending the fire now," Yang Do-saeng called out good-naturedly. She had high cheekbones and sharp elbows. She was the only person I knew who kept her hair in braids at all times. She was a little older than my mother, and they were diving partners and best friends. Do-saeng's husband had given her one son and one daughter, and that was the end. A sadness, to be sure. Nevertheless, our two families were very close, especially since Do-saeng's husband was in Japan doing factory work. These days about a quarter of all Jeju people lived in Japan, because a ferry ticket cost half the price of a single bag of rice here on our island. Do-saeng's husband had been in Hiroshima for so many years that I didn't remember him. My mother helped Do-saeng with ancestor worship, and Do-saeng helped my mother when she had to cook for our family when we performed our rites. "You're no longer an apprentice. You'll be with us today. Are you ready, girl?"
"Yes, Auntie," Mi-ja responded, using the honorific, bowing and backing away.
The other women laughed, causing Mi-ja to blush.
"Stop teasing her," my mother said. "These two have enough to worry about today."
As chief of this collective, Mother sat with her back against the part of the stone wall that had the best protection from the wind. Once she was settled, the other women took spots in strict order, according to each one's level of diving skill. The grandmother-divers—those like my mother, who'd achieved top status in the sea even if they had yet to become grandmothers on dry land—had the best seats. The actual grandmothers, like mine, didn't have a label. They were true grandmothers, who should be treated with respect. Although long retired from sea work, they enjoyed the companionship of the women with whom they'd spent most of their lives. Now Grandmother and her friends liked to sort seaweed that had been washed ashore by the wind or dive close to the beach in the shallows, so they could spend the day trading jokes and sharing miseries. As women of respect and honor, they had the second most important seats in the bulteok. Next came the small-divers, in their twenties and early thirties, who were still perfecting their skills. Mi-ja and I sat with the baby-divers: the two Kang sisters, Gu-ja and Gu-sun, who were two and three years older than we were, and Do-saeng's daughter, Yu-ri, who was already nineteen. The three of them had a couple years' diving experience, while Mi-ja and I were true beginners, but the five of us were ranked the lowest in the collective, which meant that our seats were by the bulteok's opening. The cold wind swirled around us, and Mi-ja and I scooted closer to the fire. It was important to warm up as best we could before entering the sea.
Mother began the meeting by asking, "Does this beach have any food?"
"More food than there are grains of sand on Jeju," Do-saeng trilled, "if we had an abundance of sand instead of rocks."
"More food than on twenty moons," another woman declared, "if there were twenty moons above us."
"More food than in fifty jars at my grandmother's house," a woman who'd been widowed too young joined in, "if she'd had fifty jars."
"Good," Mother said in response to the ritual bantering. "Then let us discuss where we will dive today." At home, her voice always seemed so loud. Here, hers was just one of many loud voices, since the ears of all haenyeo are damaged over time by water pressure. One day I too would have a loud voice.
The sea doesn't belong to anyone, but every collective had assigned diving rights to specific territories: close enough to the shore to walk in, within twenty- to thirty-minutes' swimming distance from land, or accessible only by boat farther out to sea; a cove here, an underwater plateau not too far offshore, the north side of this or that island, and so on. Mi-ja and I listened as the women considered the possibilities. As baby-divers, we hadn't earned the right to speak. Even the small-divers kept quiet. Mother struck down most proposals. "That area is overfished," she told Do-saeng. Another time, she came back with, "Just as on land, our sea fields also follow the seasons. To honor spawning times, conch can't be picked from the ocean floor from July to September, and abalone can't be harvested from October through December. It is our duty to be keepers and managers of the sea. If we protect our wet fields, they will continue to provide for us." Finally, she made her decision. "We'll row to our underwater canyon not far from here."
"The baby-divers aren't ready for that," one of the grandmother-divers said. "They aren't strong enough, and they haven't earned the right either."
Mother held up a hand. "In that area, lava flowed from Grandmother Seolmundae to form the rocky canyon. Its walls provide something for every ability. The most experienced among us can go as deep as we want, while the baby-divers can pick through those spots close to the surface. The Kang sisters will show Mi-ja what to do. And I'd like Do-saeng's daughter, Yu-ri, to watch over Young-sook. Yu-ri will soon become a small-diver, so this will be good training for her."
Once Mother explained, there were no further objections. Mothers are closer to the women in their diving collective than they are to their own children. Today, my mother and I had begun to form that deeper relationship. Observing Do-saeng and Yu-ri together, I could see where my mother and I would be in a few years. But this moment also showed me why Mother had been elected chief. She was a leader, and her judgment was valued.
"Every woman who enters the sea carries a coffin on her back," she warned the gathering. "In this world, in the undersea world, we tow the burdens of a hard life. We are crossing between life and death every day."
These traditional words were often repeated on Jeju, but we all nodded somberly as though hearing them for the first time.
"When we go to the sea, we share the work and the danger," Mother added. "We harvest together, sort together, and sell together, because the sea itself is communal."
With that final rule stated—as though anyone could forget something so basic—she clapped her hands twice on her thighs to signal that the meeting had ended and we needed to get moving. As my grandmother and her friends filed outside to work on the shore, Mother motioned to Yu-ri to help me get ready. Yu-ri and I had known each other our entire lives, so naturally we were a good match. The Kang sisters didn't know Mi-ja well and probably wanted to keep their distance from her. She was an orphan, and her father had been a collaborator, working for the Japanese in Jeju City. But whether or not the Kangs liked it, they had to do what my mother ordered.
"Stand close to the fire," Yu-ri told me. "The faster you get undressed and ready, the faster we'll be in the water. The sooner we go into the water, the sooner we'll return here. Now, follow what I do."
We edged closer to the flames and stripped off our clothes. No one showed any inhibitions. This was like being together in the communal bath. Some of the younger women were big with babies growing in their bellies. Older women had stretch marks. Even older women had breasts that sagged from too much living and giving. Mi-ja's and my bodies showed our age too. We were fifteen years old, but the harshness of our environment—little food, hard physical work, and cold weather—meant that we were as skinny as eels, our breasts had not yet begun to grow, and just a few wisps of hair showed between our legs. We stood there, shivering, as Yu-ri, Gu-ja, and Gu-sun helped us put on our three-piece water clothes made from plain white cotton. The white color would make us more visible underwater, and it was said to repel sharks and dolphins, but, I realized, the thinness of the fabric would do little to keep us warm.
"Pretend Mi-ja is a baby," Yu-ri told the Kang sisters, "and tie her into her suit." Then to me, she explained, "You can see that the sides are open. You fasten them together with the strings. This allows the suit to tighten or expand with pregnancy or other types of weight gain or loss." She leaned in. "I long for the day when I can tell my mother-in-law that my husband has put a baby in me. It will be a son. I'm sure of it. When I die, he'll perform ancestor worship for me."
Yu-ri's wedding was set for the following month, and of course she was dreaming of the son she would have, but her sense of anticipation seemed unimportant to me right then. Her fingers felt icy against my skin, and goosebumps rose on my flesh. Even after she'd tied the laces as tight as possible, the suit still bagged on me. Same on Mi-ja. These suits have forever marked the haenyeo as immodest, for no proper Korean woman, whether on the mainland or here on our island, would ever bare so much skin.
The whole time, Yu-ri continued talking, talking, talking. "My brother is very smart, and he works hard in school." My mother may have been the head of the collective, but Do-saeng had a son who was the pride of every family in Hado. "Everyone says Jun-bu will go to Japan to study one day."
Jun-bu was the only son, and the gift of education was bestowed on him alone. Yu-ri and her father contributed to the family's income, although they still didn't earn as much as Do-saeng, while my mother had to raise all the money to send my brothers to school without any assistance from my father. They would be lucky to go beyond elementary school.
"I'll need to work extra hard to help pay for Jun-bu's tuition and provide for my new family." Yu-ri called across the room to her mother and future mother-in-law. "I'm a good worker, eh?" Yu-ri was known throughout our village as a chatterbox. She seemed worry free, and she was a good worker, which was why it had been easy to find a match for her.
She turned her attention back to me. "If your parents love you greatly, they'll arrange a marriage for you right here in Hado. You'll maintain your diving rights, and you'll be able to see your natal family every day." Then, realizing what she'd said, she tapped Mi-ja's arm. "I'm sorry. I forgot you don't have parents." She didn't think long enough before she spoke again. "How are you going to find a husband?" she asked with genuine curiosity.
I glanced at Mi-ja, hoping she hadn't been hurt by Yu-ri's thoughtlessness, but her face was set in concentration as she tried to follow the Kang sisters' instructions.
Once we had on our suits, we put on water jackets. These were for cold weather only, but I couldn't see how, since they were the same thin cotton as the rest of the outfit. Last, we tied white kerchiefs over our hair to conserve body heat and because no one would wish for a loose tendril to get tangled in seaweed or caught on a rock.
"Here," Yu-ri said, pressing paper packets filled with white powder into our hands. "Eat this, and it will help prevent diving sickness—dizziness, headaches, and other pains. Ringing in the ears!" Yu-ri scrunched up her face at the thought. "I'm still a baby-diver, and I already have it. Ngggggg—" She imitated the high-pitched sound that apparently buzzed in her head.
Following the examples of Yu-ri and the Kang sisters, Mi-ja and I unfolded the paper packets, tilted our heads back like baby birds, poured the bitter-tasting white powder into our mouths, and swallowed. Then Mi-ja and I watched as the others spat on their knives to bring good luck in finding and harvesting an abalone—a prized catch, for each one fetched a great price.
Mother checked to make sure I had all my gear. She focused particularly on my tewak—a hollowed-out gourd that had been left to dry in the sun, which would serve as my buoy. She then did the same with Mi-ja. We each had a bitchang to use for prying creatures from their homes and a pronged hoe to pick between the cracks and embed in the sand or on a crag to help pull us from place to place. We also had a sickle for cutting seaweed, a knife for opening sea urchins, and a spear for protection. Mi-ja and I had used these tools for practice while playing in the shallows, but Mother made a point to say, "Don't use these today. Just get accustomed to the waters around you. Stay aware of your surroundings, because everything will look different."
Together we left the bulteok. We'd return several hours later to store and repair our equipment, measure the day's harvest, divvy up the proceeds, and, most important, warm up again. We might even cook and share a little of what we'd brought back in our nets, if the harvest was bountiful. I looked forward to it all.
As the other women boarded the boat, Mi-ja and I lingered on the jetty. She rummaged through her basket and pulled out a book, while I brought out a piece of charcoal from my basket. She ripped a page from the book and held it over the written character name for the boat. Even tied up, it bobbed in the waves, making it nearly impossible for Mi-ja to keep the paper steady and for me to rub it with the charcoal. Once I was done, we took a moment to examine the result: a shadowy image of a character we couldn't read but knew meant "Sunrise." We'd been commemorating our favorite moments and places this way for years. It wasn't our best rubbing, but with it we'd remember today forever.
"Hurry along," Mother called down to us, tolerant but only up to a point.
Mi-ja tucked the paper back in the book to keep it safe, then we scrambled aboard and took up oars. As we slowly rowed away from the jetty, my mother led us in song.
"Let us dive." Her gravelly voice cut through the wind to reach my ears.
"Let us dive," we sang back to her, our rowing matching the rhythm of the melody.
"Golden shells and silver abalones," she sang.
"Let us get them all!" we responded.
"To treat my lover . . ."
"When he comes home."
I couldn't help but blush. My mother didn't have a lover, but this was a much-beloved song and all the women liked it.
The tide was right, and the sea was relatively calm. Still, despite the rowing and singing, I began to feel sick to my stomach and Mi-ja's usually pink cheeks turned an ashen gray. We brought up our oars when we reached the diving spot. The boat dipped and swayed in the light chop. I attached my bitchang to my wrist and grabbed my net and tewak. A light wind blew, and I began to shiver. I was feeling pretty miserable.
"For a thousand years, for ten thousand years, I pray to the Dragon Sea God," Mother called out across the waves. "Please, ocean king spirit, no strong winds. Please no strong currents." She poured offerings of rice and rice wine into the water. With the ritual completed, we wiped the insides of our goggles with the mugwort we'd picked to keep them from fogging up and then positioned them over our eyes. Mother counted as each woman jumped into the water and swam away in twos and threes. With fewer women on board to help weigh down the boat, it rocked even worse. Yu-ri steadied herself before finally leaping over a swell and into the water. The Kang sisters held hands when they jumped. Those two were inseparable. I hoped their loyalty would now expand to include Mi-ja, and they'd watch out for her in the same way they did each other.
Mother gave some final advice: "The sea, it is said, is like a mother. The salt water, the pulse and surges of the current, the magnified beat of your heart, and the muffled sounds reverberating through the water together recall the womb. But we haenyeo must always think about making money . . . and surviving. Do you understand?" When we nodded, she went on. "This is your first day. Don't be greedy. If you see an octopus, ignore it. A haenyeo must learn how to knock out an octopus underwater, or else it could use its arms against you. And stay away from abalone too!"
She didn't have to explain more. It can take months before a beginning haenyeo is ready to risk prying an abalone from a rock. Left alone, the creature floats its shell off a rock, so that the sea's nourishing waters can flow in and around it. When surprised—even if it's only by the shift in current caused by a large fish swimming past—it will clamp itself to a rock so that the hard shell protects the creature inside from all predators. As a result, an abalone must be approached carefully and the tip of the bitchang inserted under the shell and flipped off the rock in one swift movement before the abalone can clamp down on the tool attached to a diver's wrist, thereby anchoring her to the rock. Only years of experience can teach a woman how to get loose and still have enough time left over to reach the surface for air. I was in no hurry to attempt such a hazardous activity.
"Today you follow in my wake as I once followed in my mother's wake," Mother went on, "and as one day your daughters will follow in your wakes. You are baby-divers. Don't reach beyond your abilities."
With that blessing—and warning—Mi-ja took my hand and together we jumped feetfirst into the water. Instant, shocking cold. I hung on to my buoy, my legs kicking back and forth beneath me. Mi-ja and I looked into each other's eyes. It was time for swallowing water breath. Together we took a breath, a breath, a breath, filling our lungs to capacity, expanding our chests. Then we went down. Light filtered turquoise and glittery close to the surface. Around us, others descended—with their heads directed to the ocean floor—through the canyon Mother had described, their feet pointed to the sky. Those women were quick and powerful, plunging a body length, another body length, deeper and deeper into darker blue water. Mi-ja and I struggled to achieve that straight angle. For me, the worst part was my goggles. The metal frames, responding to the water pressure even at this shallow depth, cut into my flesh. They also limited my peripheral vision, creating yet another danger and forcing me to be even more vigilant in this ghostly environment.
As baby-divers, Yu-ri, the Kangs, Mi-ja, and I could only go down about two body lengths, but I watched as my mother disappeared into the inky chasm of the canyon. I'd always heard she could reach twenty and sometimes more meters on a single breath, but already my lungs burned and my heart thumped in my ears. I kicked to go up, my lungs feeling like they were about to explode. As soon as I broke the surface, my sumbisori erupted and scattered on the air. It sounded like a deep sigh—aaah—and I realized it was just as Mother had always said it would be. My sumbisori was unique. And so was Mi-ja's, which I learned when she split the water beside me. Wheeee. We grinned at each other, then swallowed more water breath and dove again. Nature told me what to do. The next time I surfaced, I had a sea urchin in my hand. My first catch! I put it in the net attached to my tewak, took another series of deep breaths, and went back down. I stayed within sight of Yu-ri, even if we resurfaced at different intervals. Every time I looked for Mi-ja, I found her not more than a meter away from one of the Kang sisters, who themselves stayed close together.
We repeated this pattern, pausing occasionally to rest on our buoys, until it was time to return to the boat. When I reached it, I easily hoisted my net—noticeably light compared to those of others—and carried it across the deck so that the woman behind me and her catch could board. Mother oversaw everything and everyone. One group of women secured their nets, tying the tops so nothing precious could escape, while Do-saeng and some others gathered around the brazier, sending warmth into their bones, drinking tea, and bragging about what they'd caught. Four stragglers still paddled toward the boat. I could sense Mother counting to make sure everyone was safe.
Yu-ri giggled at our shivering, telling us that eventually we'd get used to being cold all the time. "Four years ago, I was just like you, and now look at me," she boasted.
It was a beautiful day, and everything had gone perfectly. I felt proud of myself. But now that the swells were rising, and the dipping and swaying of the boat was getting worse, all I wanted to do was go home. Not possible. Once our arms and legs were rosy with heat, we went back in the water. The five baby-divers stayed together—with one or another of us popping back up for air. Never before had I concentrated so hard—on my form, on the beating of my heart, on the pressure on my lungs, on looking. I can't say that either Mi-ja or I found many sea creatures. Our main goal was not to embarrass ourselves as we tried to perfect the head-down dive position. We were pathetic. Acquiring that skill would take time.
When Mother sounded the call that the day was done, I was relieved. She looked in my direction, but I wasn't sure if she saw me or not. I glimpsed Mi-ja and the Kangs swimming to the boat. They'd be the first three on board, so they'd get to listen as the other women breached the waters and let out their sumbisori. I was about to start paddling when Yu-ri said, "Wait. I saw something on my last dive. Let's go get it." She glanced around, taking in how far the grandmother-divers were from the boat. "We can do it before they get here. Come on!"
Mother had said I was supposed to stay with Yu-ri, but she'd also called for us to return to the boat. I made a split-second decision, took a few deeps breaths, and followed Yu-ri. We went to the same shelf where we'd been harvesting sea urchins. Yu-ri dragged herself along the craggy surface, pulled out her bitchang, jabbed it in a hole, and yanked out an octopus. It was huge! The arms must have been a meter long. Such a catch! I would get some credit for it too.
The octopus reached out and looped an arm around my wrist. I wrenched it loose. By the time I'd done that, some of its other limbs had grabbed on to Yu-ri. One had latched on to my thigh and was drawing me toward it, while another was slithering sucker over sucker up my other arm. I struggled to pull them off. The octopus's bulbous head moved toward Yu-ri's face, but she was so busy fighting the other arms that were reeling her closer into its grip that she didn't notice. I wanted to scream for help, but I couldn't. Not underwater.
Before another moment passed, Yu-ri's face was covered. Instead of fighting or resisting, I swam closer, linked my arms around the octopus and Yu-ri, and kicked as hard as I could. As soon as we breached the surface, I yelled, "Help! Help! Help us!"
The octopus was strong. Yu-ri's face was still covered. The creature was trying to pull us back under. I kicked and kicked. Suckers loosened from Yu-ri and came to me, sensing I was now the greater threat. They creeped along my arms and legs.
I heard splashing, then arms grabbed me. Knives flashed in the sun as suckers were pried from my skin, chunks of the octopus cut off and tossed through the air, discarded. Buoyed by the others, I lifted a leg so they could remove the suckers. When I caught a glimpse of my mother's face, fierce in concentration, I knew I'd be safe. Women worked on Yu-ri too, but she didn't seem to be helping them. Do-saeng pulled her arm back, her knife in her fist. If I were her, I would have used all my strength to stab the octopus's head, but she couldn't. Yu-ri was under there. Do-saeng went up under the octopus's head, running the blade parallel to her daughter's face. Despite the support from the women surrounding us, I could feel in my legs that I was the one keeping Yu-ri afloat even as the octopus continued to try to drag us under. The limpness of Yu-ri's body in my arms told me something the others hadn't yet realized. As strong as I wanted to be, I began to cry inside my goggles.
The women worked their way up to the thicker parts of the octopus's appendages. That, combined with the repeated jabs and pokes to the octopus's head from the tip of Do-saeng's knife, thoroughly weakened the creature. It was either dead or close to it, but like that of a lizard or a frog, its body still had impulses and strength.
Finally, I was free.
"Can you swim to the boat?" Mother asked.
"What about Yu-ri?"
"We'll take care of her. Can you make it alone?"
I nodded, but now that the battle was over, whatever had caused me to fight so hard was dissipating fast. I made it about halfway to the boat before I had to flip onto my back to float and rest for a moment. Above me, clouds traveled quickly, pushed by the wind. A bird flew overhead. I closed my eyes, trying to draw on deeper strength. Waves lapped against my ears—submerging them one moment, then exposing them to the worried sounds of the women still with Yu-ri. I heard a splash, then a second, and a third. Arms once again supported me. I opened my eyes: Mi-ja and the Kang sisters. Together they helped me to the boat. Gu-ja, the strongest of us, heaved herself up and over the side. I placed my arms on the side of the boat and began to hoist myself up, but the ordeal had left me too weak. Mi-ja and Gu-sun each placed a hand under my bottom and pushed me up. I slipped onto the deck like a caught fish. I lay there panting, my limbs like rubber, my mind exhausted. I pulled my goggles from my eyes, and they clattered to the deck. The whole while, the three girls babbled nonstop.
"Your mother said we should stay in the boat—"
"She didn't want us to help—"
"Baby-divers would only cause more problems—"
"In a rescue—"
I could barely take in what they said.
Other women began to arrive. I forced myself to sit up. Mi-ja and the Kangs went to the edge of the boat and reached down their arms. I joined them and helped grab Yu-ri. She felt heavy—a deadweight. We pulled her up and over, and we fell back to the deck. Yu-ri lay on top of me, not moving. The boat pitched, and she rolled to the side. Do-saeng came next, followed by my mother. They knelt next to Yu-ri. As the other haenyeo clambered aboard, Mother lowered her cheek to Yu-ri's mouth and nostrils to feel if any breath escaped.
"She's alive," Mother said, sitting back on her heels. Do-saeng and some of the other haenyeo began to rub Yu-ri's limbs, seeking to bring life back into them. Yu-ri didn't respond. "We should try to empty her of water," Mother suggested. Do-saeng edged out of the way. Mother pressed hard on Yu-ri's chest, but nothing came out of her mouth. Unsuccessful, Mother said, "We must consider that the octopus saved her life by covering her face. Otherwise she would have inhaled water . . ."
The other women circled back in for their massaging.
Mother suddenly turned her attention to Mi-ja, the Kang sisters, and me. She regarded us, considering our actions. We were supposed to stay together. Mi-ja and the Kangs had, but they looked embarrassed. Mother didn't have to say a word before the excuses began to sputter out.
"I saw her the last time I came up for air," Gu-sun stammered.
"We were never out of Yu-ri's sight," Mi-ja choked out. "She watched over us all day."
"She said she saw something big," I mumbled.
"And the two of you went. I saw you go, even though I'd sounded the call."
I couldn't bear that Mother would think I'd been partly responsible for what had happened to Yu-ri, so I said, "We didn't hear you." I lowered my gaze and shivered—from shock, sadness, and now shame that I'd lied to my mother.
Mother shouted for everyone to take her place. We picked up our oars. The boat lurched as it began moving over and through the white-capped waves. Do-saeng remained by her daughter's side, pleading with her to wake up. Yu-ri's future mother-in-law took responsibility for leading our song. "My shoulders on this icy night shake along with the waves. This small woman's mind shivers with the grief of a lifetime." It was so mournful that soon we all had tears running down our cheeks.
Mother placed a blanket over Yu-ri and another over Do-saeng's shoulders. Do-saeng wiped her face with a corner of the rough cloth. She spoke, but her words were carried away by the wind. First one woman then another stopped singing, each of us needing to hear Do-saeng. Yu-ri's future mother-in-law kept our rowing rhythm going by beating the wooden handle of a diving tool on the edge of the boat.
"A greedy diver equals a dead diver," Do-saeng lamented. We all knew the saying, but to hear it from a mother about her own daughter? That's when I learned just how strong a mother must be. "This is a haenyeo's worst sin," she went on. "I want that octopus. I can sell it for a lot of money."
"Many things exist under the sea that are stronger than we are," Mother said.
She wrapped an arm around Do-saeng, who then expressed her worst fear. "What if she doesn't wake up?"
"We have to hope she will."
"But what if she remains like this—suspended between this world and the Afterworld?" Do-saeng asked, gently lifting her daughter's head and placing it in her lap. "If she's unable to dive or work in the fields, wouldn't it be better to let her go?"
Mother pulled Do-saeng in closer. "You don't mean that."
"But—" Do-saeng didn't finish her thought. Instead, she smoothed strings of wet hair away from her daughter's face.
"None of us yet know what the goddesses have planned for Yu-ri," Mother said. "She may wake up tomorrow her usual chatterbox self."
Yu-ri didn't wake up the next morning. Or the morning after that. Or the week after that. In desperation, Do-saeng sought help from Shaman Kim, our spiritual leader and guide, our divine wise one. Although the Japanese had outlawed Shamanism, she continued to perform funerals and rites for lost souls in secret. She was known to hold rituals for grandmothers when their eyesight began to fade, mothers whose sons were in the military, and women who had bad luck, such as three pigs dying in a row. She was our conduit between the human world and the spirit world. She had the ability to go into trances to speak to the dead or missing, and then transmit their messages to friends, family, and even enemies. Do-saeng hoped Shaman Kim would now reach Yu-ri's soul and bring her mind back to her body and her family.
The ritual was held in Do-saeng's home. Shaman Kim and her helpers wore colorful hanboks—traditional Korean gowns from the mainland—instead of Jeju's usual drab trousers and jackets. Her assistants banged on drums and cymbals. Shaman Kim spun, her arms raised, calling out to the spirits to return the young haenyeo to her mother. Do-saeng openly wept. Jun-bu, Yu-ri's brother, who was just beginning to develop peach fuzz on his cheeks, tried to hold in his emotions, but we all knew how much he loved his sister. Yu-ri's future husband was pale with grief, and his parents did their best to comfort him. It was painful to see their sorrow. Still Yu-ri didn't open her eyes.
That night, I told Mi-ja my secret—that Yu-ri had asked me to disobey my mother, and I had. "If I hadn't agreed to go down one more time, Yu-ri wouldn't be the way she is now."
Mi-ja tried to comfort me. "It was Yu-ri's duty to watch over you. Not the other way around."
"I still feel responsible, though," I admitted.
Mi-ja mulled that over for a few moments. Then she said, "We'll never know why Yu-ri did what she did, but don't tell anyone your secret. Think of the pain it will bring to her family."
I also thought of the agony that would be added to my mother's heart. Mi-ja was right. I had to keep this a secret.
After another week, Do-saeng asked Shaman Kim to try again. This time the ceremony was held in our bulteok—hidden from the prying eyes of the Japanese. In fact, no men attended. Not even Yu-ri's brother. Do-saeng carried her daughter to the bulteok and laid her next to the fire pit. An altar had been set up against the curved stone wall. Offerings of food—so scarce—sat in dishes: a pyramid of oranges, bowls holding the five grains of Jeju, and a few jars of homemade alcohol. Candles flickered. Mother had offered to pay Jun-bu to write messages for Yu-ri on long paper ribbons. He did it for free. "For my sister," he told me when I went to his family's house to pick them up. Now the ends of the ribbons had been tucked into the wall's rocky crevices, their tails flapping in the breeze that squeezed through the cracks.
Shaman Kim wore her most colorful silk hanbok. A sash the tint of maple leaves in spring tied closed the bright blue bodice. The main part of the fuchsia gown was so light that it wafted about her as she moved through the ceremony. Her headband was red, and her sleeves gleamed the hue of rapeseed flowers.
"Given the dominance on Jeju of volcanic cones, which are concave at the top like a woman's private parts, it is only natural that on our island females call and males follow," she began. "The goddess is always supreme, while the god is merely a consort or guardian. Above all these is the creator, the giant Goddess Seolmundae."
"Grandmother Seolmundae watches over us all," we chanted together.
"As a goddess, she flew over the seas, looking for a new home. She carried dirt in the folds of her skirt. She found this spot where the Yellow Sea meets the East China Sea and began to build herself a home. Finding it too flat, she used more of the dirt in her gown, building the mountain until it was high enough to reach the Milky Way. Soon her skirt became worn and tiny holes formed in the cloth. Soil leaked from it, building small hills, which is why we have so many oreum. In each one of these volcanic cones, another female deity lives. They are our sisters in spirit, and you can always go to them for help."
"Grandmother Seolmundae watches over us all," we chanted.
"She tested herself in many ways, as all women must," Shaman Kim told us. "She assessed the waters to see how deep they were, so that haenyeo would be safe when they went to sea. She also searched ponds and lakes, looking for ways to improve the lives of those who worked the fields on land. One day, attracted to a mysterious mist on Muljang-ol Oreum, she discovered a lake in its crater. The water was deep blue, and she could not begin to guess its depths. Taking one big breath, she swam straight down. She has never returned."
Several of the women nodded appreciatively at the good telling of this story.
"That's one version," the shaman continued. "Another says Grandmother Seolmundae, like all women, was exhausted by all she did for others, especially for her children. Her five hundred sons were always hungry. She was making them a cauldron of porridge when she became drowsy and fell into the pot. Her sons looked everywhere for her. The youngest son finally found all that remained of her—just bones—at the bottom of the pot. She had died from mother love. The sons were so overcome that they were instantly petrified into five hundred stone outcroppings, which you can see even today."
Do-saeng silently wept. The story helped one suffering mother to hear of another suffering mother.
"The Japanese say if Grandmother Seolmundae existed and if that oreum was the water pathway to her underwater palace," Shaman Kim went on, "then she abandoned us, as have all our goddesses and gods. I say she never left us."
"We sleep on her every night," we recited. "We wake on her every morning."
"When you go into the sea, you dive among the underwater ripples of her skirt. She is the great volcano at the center of our island. Some people call it Mount Halla, the Peak That Pulls Down the Milky Way, or the Mountain of the Blessed Isle. To us, she is our island. Anywhere we go, we can call to her and weep out our woes, and she will listen."
Shaman Kim now directed her attention to Yu-ri, who had not once stirred.
"We are here to help Yu-ri with her traveling-soul problem, but we must also worry about those of you who've suffered soul loss, which happens any time a person receives a shock," she said. "Your collective has experienced a terrible blow. None has suffered more than Yu-ri's mother. Do-saeng, please kneel before the altar. Anyone else who is in anguish, please join her."
My mother knelt next to Do-saeng. Soon the rest of us were on our knees in a circle of anguish. The shaman held ritual knives in her hands from which white ribbons streamed. As she sliced through negativity, the ribbons swirled around us like swallows through the air. Her hanbok ballooned in clouds of riotous color. We chanted. We wept. Our emotions flowed from us accompanied by the cacophony of cymbals, bells, and drums played by Shaman Kim's assistants.
"I call upon all goddesses to bring Yu-ri's spirit back from the sea or wherever it is hiding," Shaman Kim implored. After making this request another two times, her voice changed as Yu-ri inhabited her. "I miss my mother. I miss my father and my brother. My future husband . . . Aigo . . ." The shaman turned to my mother. "Diving Chief, you sent me here. Now bring me home."
The way Yu-ri's voice came out of Shaman Kim's mouth sounded more like blame than an entreaty for help. This was not a good portent. Shaman Kim seemed to acknowledge this. "Tell me, Sun-sil, how would you like to respond?"
My mother rose. Her face looked taut as she addressed Yu-ri. "I accept responsibility that I sent you into the sea, but I gave you a single duty that day: to stay with my daughter and help the Kang sisters as they looked after Mi-ja. You were the eldest of the baby-divers. You had an obligation to them and to us. Through your actions, I could have lost my daughter."
Perhaps only I could see how deeply affected Mother was by what had happened. I was both awed and humbled. I hoped one day I could prove to her that I loved her as much as she loved me.
Shaman Kim swiveled to Do-saeng. "What do you wish to tell your daughter?"
Do-saeng spoke sharply to Yu-ri. "You would blame another for the results of your greed? You embarrass me! Leave greed where you are and come home right now! Don't ask someone else to help you!" Then she softened her tone. "Dear girl, come back. Your mother and brother miss you. Return home and we will drench you in love."
Shaman Kim chanted a few more incantations. The helpers banged their cymbals and drums. After that, there was nothing left to say or do.
The next morning, Yu-ri woke up. She was not the same girl, though. She could smile, but she could not speak. She could move, but she limped and sometimes jerked her arms. Both sets of parents agreed that a marriage was no longer possible. Mi-ja and I hung on to my secret, which made us closer than ever. In the weeks that followed, after we'd worked in the dry or wet fields, we visited Yu-ri. Mi-ja and I talked and giggled, so Yu-ri would have the sense she was still a young girl with no worries. Sometimes Jun-bu joined us and read aloud the essays he was writing for school or tried to tease us as he had once teased his sister. On other days, Mi-ja and I helped Do-saeng wash Yu-ri's body and hair. And when the weather grew warm, Mi-ja and I took her to the shore, where we sat in the shallows to let the smallest wavelets lap against her. We told stories, we patted her face, we let her know we were there, and she would reward us with a beautiful smile.
Every time I visited, Do-saeng bowed and expressed her gratitude. "If not for you, my daughter would have died," she'd say as she poured buckwheat tea or presented me with a dish of salted smelt, but her eyes sent a darker message. She may not have known exactly what part I'd played in Yu-ri's accident, but she certainly suspected that it was more than I'd let on, either to her or to my mother.