Reading Group Guide
Discussion Questions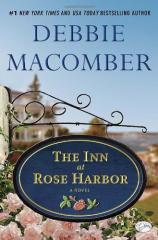 1.) Debbie chose a bed-and-breakfast in the fictional Pacific Northwest town of Cedar Cove, Washington, as the backdrop for THE INN AT ROSE HARBOR. How do you think the choice of a bed-and-breakfast versus a hotel or motel impacts the story? How is the depiction of Jo Marie's bed-and-breakfast different or similar to your travel experiences?
2.) THE INN AT ROSE HARBOR, the bed-and-breakfast turns out to be a place where its innkeeper and her guests heal from different kinds of heartache. Have you ever had a similar experience, where a trip or a stay in a certain place turned out to be so much more than you thought it would be, more than just a vacation or a respite from work and the stress of everyday living? If so, share the miracle of this trip and how it impacted your life, as the stay at the Rose Harbor Inn forever changed the lives of Jo Marie's first two guests.
3.) Cedar Cove quickly embraces Jo Marie Rose as one of its own. What qualities does Jo Marie possess that enable people to warm to her so openly? Do you think her ease in settling into the community of Cedar Cove had more to do with her personality or with the nature of the town --- or both?
4.) One of the recurrent themes in THE INN AT ROSE HARBOR is second chances --- that it's never too late to start over, to adopt a fresh outlook on life. Which character struggling to overcome the past do you relate to the most and why?
5.) As the story begins Richard is a difficult, unsympathetic character. Do you feel that he changes by the end of the book, and if so, how? Did his journey make you feel any different about someone in your life?
6.) Jo Marie decides to have a rose garden planted at THE INN AT ROSE HARBOR. What significance does this rose garden have for Jo Marie?
7.) The one thing Josh hopes to retrieve from his stepfather when he returns to Cedar Cove is his late mother's Bible. What memento or heirloom from a family member do you treasure and why?
8.) Abby's chance encounter with an old high school friend, who welcomes her back to Cedar Cove with honest enthusiasm, is the spark that gradually enables Abby to reconnect with those she loves and to begin to forgive herself. She also seeks forgiveness once again from Angela's parents. Discuss the challenges and differences between forgiving yourself and forgiving others. Do you think one is more important than the other?
9.) How does Jo Marie grow from the beginning of the story until the end? How have her guests, and her budding relationship with Mark, enriched her life and opened her to life's possibilities?
The Inn at Rose Harbor
by Debbie Macomber
Publication Date: August 14, 2012
Genres: Fiction, Women's Fiction
Hardcover: 352 pages
Publisher: Ballantine Books
ISBN-10: 0345528921
ISBN-13: 9780345528926