Reading Group Guide
Discussion Questions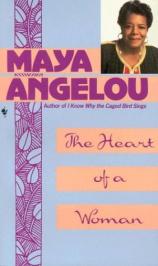 1. What is the significance of Maya quitting show business to become a civil rights activist?
2. Maya's husband Make is a freedom fighter--yet he treats Maya as a possession. Why do you think Maya stays with him? Do you think Make sees his own hypocrisy, and why or why not?
3. When approached by a friendly stranger, Maya's mother remarks, "He's colored and I'm colored, but we are not cousins." What episodes in the memoir might evoke the same response from Maya?
4. The memoir concludes with a poignant scene, as Guy bids farewell to Maya before he goes to college. Guy is characteristically wise, brave, and mature for his years. What do his parting words say about his perceived role in their relationship? How has Maya's role changed?
The Heart of a Woman
by Maya Angelou
Publication Date: August 1, 1984
Paperback: 288 pages
Publisher: Bantam
ISBN-10: 0553246895
ISBN-13: 9780553246896