About the Book
About the Book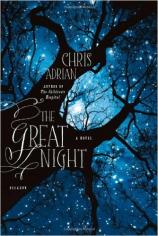 Chris Adrian's fiction has been hailed for its startling originality and provocative meditations on life and mortality. Inspired by Shakespeare's A Midsummer Night's Dream, The Great Night infuses Adrian's storytelling with new levels of creative genius, bringing the imaginary kingdom of Titania and Oberon to San Francisco's Buena Vista Park.
Midsummer's Eve, 2008. Molly, Henry, and Will, each of them reeling from the loss of a love, set out for a party but become trapped in the park, which has become the home in exile for a madcap faerie court. Like the three mortals who are ensnared in her world that night, Queen Titania is mourning too: her adopted son has died of leukemia, a disease that defied the most potent magic. The queen's grief has turned to rage, and on this night she unleashes an ancient beast, along with the fearsome might of her tiny Puckish followers.
As their stories unfold, the cast of characters proves to have surprising shared histories, blurring the line between memory and hope at every turn. For some, retracing the past becomes a way of flirting with immortality. For others, it's only a reminder of how dark the mortal world can be. Culminating in a staging of the 1970s cult classic Soylent Green --- indirectly produced by Titania via a homeless man who wants to bring down a seemingly sinister mayor—the novel unfolds as an unforgettable homage to the power of the imagination.
The following questions and discussion topics are designed to enhance your reading group's experience of The Great Night. We hope this guide enriches your fantastic journey.