Excerpt
Excerpt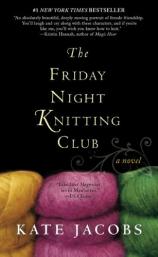 The Gathering
Choosing your wool is dizzying with potential: The waves of colors and textures tempt with visions of a sweater or cap (and all the accompanying compliments you hope to receive) but don't reveal the hard work to get there. Patience and attention to detail make all the difference. Also willingness. Challenge keeps it interesting, but don't select a pattern that is so far beyond you. Always select the best yarn you can afford. And use the type of needle that feels best in your hand; I always used bamboo. Even now, it still seems unbelievable to me that by pulling together a motley collection—the soft yarn, the sharp needles, the scripted pattern, the smoothing hook, the intangibles of creativity, humanity, and imagination—you can create something that will hold a piece of your soul. But you can.
Chapter 1
Open Tuesday to Sunday, 10 am—8pm. No exceptions!
The hours of Walker and Daughter: Knitters were clearly displayed in vibrant multi-colored letters on a white sandwich board placed just so at the top of the stair landing. Though Georgia Walker—preoccupied with closing out the till and picking up the strays of yarn on the floor—rarely made a move to turn the lock until at least 8:15…and often later still.
Instead, she sat on her stool at the counter, tuning out the traffic noise from New York's busy Broadway below, reflecting on the day's sales or prepping for the beginner's knitting class she taught every afternoon to the stay-at-homes looking for some seeming stamp of authentic motherliness. She crunched the numbers with a pencil and paper and sighed (business was good, but it could always be better); she tugged at her long chestnut curls. It was a habit from years ago she'd never quite grown out of and by the end of each day her bangs often stood straight up, giving her a bit of wild look. Once the bookkeeping was in order—she kept up with it every day—she'd smooth out her hair, brush off any bits of eraser from her jeans and tank top, and stand up to her full 6 feet (thanks to the 3-inch heels on her well-worn brown leather cowboy boots that she kept as they cycled in and out of style).
Slowly she would walk around the shop, running her hands lightly over the piles of yarn that were meticulously sorted by color—from lime to Kelly green, rust to strawberry, cobalt to Wedgwood blue, sunburst to amber, and rows and rows of greys and creams and blacks and whites. The yarn went from exquisitely plush and smooth to itchy and nubbly and all of it was hers. And Dakota's too, of course. Dakota, who at 12 frequently ignored her mother's instructions, loved to cross her eyes and savor the fuzzed-out look of the colors all merging together, a rainbow blending together.
Dakota was the store mascot, one of its chief color consultants (more sparkles!), and frankly, a pretty damn good knitter already. During their early-morning breakfast knitting sessions, when just the two of them would sit snuggled on the couch at home, talking about the day to come and whether or not Dakota could wear lip gloss to school, Georgia was noticing how quickly her daughter was making her projects, how particular she was becoming about the tautness of her stitches. More than once Georgia had been surprised to see her not-so-little-anymore girl approach a waiting customer and say with confidence: "Oh, I can help you with that. Here, we'll take this crochet hook and fix that mistake…" The shop was a work in progress; Dakota was the one thing she knew she'd done exactly right.
And yet when Georgia finally went to turn out the lights of her shop, anticipating the short climb to the sparsely decorated apartment above and snacking on Cheerios while Dakota munched on PB&J and chocolate milk, she would more often than not be met by a potential customer, all furrowed brow and breathless from dashing up the steep stairs to the second-floor shop, the seemingly innocuous "Can I just pop in, for a quick minute?" out of her mouth before Georgia could even insist they were done for the night. She opened the door a little wider, knowing too well what it was like to juggle work and kids and still try to sneak in a little something for herself on the side: reading a book, coloring her hair in the bathroom sink, taking a nap. Come in, get what you need, she'd say. (And though she never let any straggler stay past nine on a school night because she needed to shoo her Dakota from the corner desk where she did her homework, Georgia was a shrewd businesswoman who would never turn away a potential sale.)The yarn went from exquisitely plush and smooth to itchy and nubbly and all of it was hers. She'd never turn away anyone at all.
Excerpted from The Friday Night Knitting Club © Copyright 2007 by Kate Jacobs. Reprinted with permission by Penguin Putnam. All rights reserved.
The Friday Night Knitting Club
by by Kate Jacobs
Genres: Fiction
paperback: 384 pages
Publisher: Berkley Trade
ISBN-10: 0425219097
ISBN-13: 9780425219096