About the Book
About the Book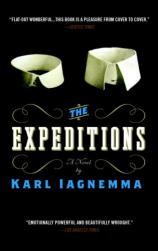 From Karl Iagnemma, recipient of the Paris Review Plimpton Prize, comes a fierce and gorgeous story of an estranged father and son's unlikely journey though the wilderness of nineteenth-century America.
The year is 1844. Sixteen-year-old runaway Elisha Stone is in Detroit, a hardscrabble frontier town on the edge of the civilized world. A canny survivor with the instincts of a born naturalist, Elisha signs on to an expedition into Michigan's vast, uncharted Upper Peninsula. The party is led by two charismatic adventurers: Silas Brush, a ruthless land-grabbing ex-soldier, and George Tiffin, a quixotic professor desperate to discover proof of his unorthodox theories about the origins of man.
On the eve of the expedition's departure, Elisha pens a heartfelt letter to his mother in Newell, Massachusetts. But it is Elisha's estranged father, the Reverend William Edward Stone, who opens the envelope. Grief-stricken by the recent death of his wife --- a death Elisha could not have known about --- Reverend Stone is jolted into action: he must find his son.
What follows is a powerful narrative about the complex love between fathers and sons and an evocative portrait of an era of faith, wonder, and violence. While Elisha's journey draws him deeper into uncharted territory, Reverend Stone must navigate through a country in turmoil as he moves toward an inevitable reunion with a son who has become a stranger. A first novel of uncommon wisdom, The Expeditions is the confirmation of an extraordinary talent.
The Expeditions
by Karl Iagnemma
Publication Date: February 24, 2009
Paperback: 336 pages
Publisher: Dial Press Trade Paperback
ISBN-10: 0385335962
ISBN-13: 9780385335966