About the Book
About the Book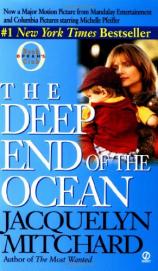 The Deep End of the Ocean is a story about every parent's worst nightmare: the loss of a child. It is a story that is all too familiar to many of us, made frighteningly routine by the young faces emblazoned on milk cartons or steeped in pathos by Hollywood scriptwriters. In Jacquelyn Mitchard's deft hands, however, the story of the Cappadora family is neither routine nor cliched. It is chillingly and beautifully real.
Photographer Beth Cappadora is far from the ideal mother and wife. She is harried, impatient, disorganized, and ambivalent about her husband and her kids‹faults that come back to haunt her after her middle child disappears in a crowded hotel lobby. The ensuing decade of unbelievable grief and pain, of Beth's attempt at recreating a life after her son disappears, is lovingly documented in this electrifying novel. Like photographs in a family album, scenes from Beth's life are offered in startling detail: the scoops of coffee she forces herself to measure out each day; snatches of conversation between a husband and wife doggedly trying to return to a normal life; the cynical observations of her oldest child as he struggles to be noticed and loved; the "purple elephants" that loom in every family's living room‹unspoken pain so huge one can only step around it, for to acknowledge it is too terrifying a prospect. And, like all good photographs, this one is not without many shades of gray. There are no easy heroes in this story, although heroism abounds. While the novel speeds along with the pace of a thriller, its drama reaches far beyond the story of Ben's disappearance. The mystery of what happened to Ben is only one of the mysteries that envelop this novel. In revealing what happens to the Cappadora family, Mitchard offers us no easy answers. Instead she raises difficult questions about the nature of grief and loss, about the value of families of all kinds, and about the gifts of love, redemption, and forgiveness.
It would be easy for a writer to grant a happy ending to the Cappadora family, who have been through so much and none of it their fault. And yet instead we are left with something much more real, the side of a tragedy you won't catch on the six o'clock news. The Deep End of the Ocean will make you catch your breath. It will make you thankful. It will make you think. It will make you feel.
The Deep End of the Ocean
by Jacquelyn Mitchard
Publication Date: February 1, 1999
Mass Market Paperback: 448 pages
Publisher: Signet
ISBN-10: 0451197747
ISBN-13: 9780451197740