About the Book
About the Book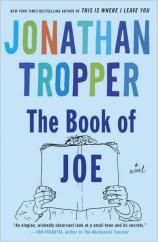 By turns wickedly funny and achingly poignant, The Book of Joe proves that you can go home again . . . even if you have to battle the bullies of your youth.
Joe Goffman escaped oppressive Bush Falls, Connecticut, as soon as he could. But he could never get his hometown out of his mind, inspiring him to write a novel savaging everything and everyone there. When the novel became a huge bestseller, and an even more popular movie, he knew he'd never be able to set foot in Bush Falls again. Now, fifteen years later, he has no choice. Joe's father is gravely ill, so the town's most famous pariah must return. Joe is finally ready to face his past, and with the help of some old friends, he may actually learn something . . . if he manages to survive the homecoming.
In the tradition of Nick Hornby and Jennifer Weiner, Jonathan Tropper has created a book that will cause you to laugh and pause to reflect. The questions, discussion topics, and author biography that follow are intended to enhance your reading of Jonathan Tropper's The Book of Joe. We hope they will enrich your experience of this captivating novel.
The Book of Joe
by Jonathan Tropper
Publication Date: January 25, 2005
Genres: Fiction
Paperback: 368 pages
Publisher: Bantam
ISBN-10: 0385338104
ISBN-13: 9780385338103