About the Book
About the Book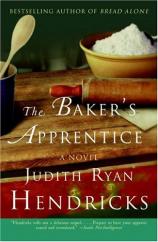 Judith Ryan Hendricks, who Booklist has said "calls to mind Barbara Kingsolver in her affinity for wise women and the power of close female friendships," continues the saga of the Queen Street Bakery in The Baker's Apprentice.
Wynter Morrison -- first introduced in the bestselling Bread Alone -- has found contentment in a life very different from anything she ever imagined: making bread on the night shift, learning the fine points of running a bakery, and exploring the possibilities of a relationship with Mac, her on-again, off-again love interest.
But Mac's failure to deal with issues in his past creates friction, Wyn's soon-to-be-ex husband is turning their divorce into guerrilla warfare, and she is reminded of how quickly life can reverse direction without warning.
Mac's abrupt departure is a shock, but conflicts at the bakery and her friend Tyler's tragic loss afford Wyn little time for brooding. Then letters from Mac begin to arrive, casual and distant at first, but gradually becoming more personal and revealing.
In his absence, Wyn finds she not only learns more about Mac but also about herself, as she becomes Tyler's mentor, passing on the wisdom and healing power of bread making. Her new self-awareness and resiliency will be tested when the Queen Street Bakery's existence is threatened, as well as when Mac returns and she must decide whether there is still a place for him in her life.
From critically acclaimed author Judith Ryan Hendricks comes the next chapter of the Queen Street Bakery, where questions are answered and old friends are revisited.
The Baker's Apprentice
by Judith Ryan Hendricks
Publication Date: March 1, 2006
Genres: Fiction
Paperback: 384 pages
Publisher: Harper Paperbacks
ISBN-10: 0060726180
ISBN-13: 9780060726188