Excerpt
Excerpt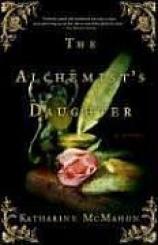 Chapter One
True it is, without falsehood, certain and most true
First Precept of the Emerald Tablet
In one of my earliest memories, I walk behind my father to the furnace shed. He wears a long black coat that gathers up fallen leaves, and his staff makes a little crunch when he stabs it into the path. My apron is so thick that my knees bang against it, and the autumn air is smoky on my face. Suddenly I trip over the hem of his coat. My nose hits ancient wool. He stops dead. My heart pounds, but I recover my balance, and we walk on.
When we reach the shed, I take a gasp of fresh air before being swallowed up. Gill is inside, shoveling coal into the arch of the furnace mouth, which roars orange.
My father's finger emerges from his sleeve and points to a metal screen Gill made for me. There is a little stool behind it, and at just the right height a couple of peepholes covered with mesh are cut into the metal. I must not move from this stool in case something spills or explodes. We are boiling up vatfuls of urine to make a thick syrup that eventually will become phosphorus. After a while the stench of sulfur and ammonia is so strong that it almost knocks me off my stool. I can't breathe properly and my throat is hot, but I hold firm and don't let my back slump. Gill is like a black shadow moving back and forth; a twist of his upper body, a jerk of the shovel, a stooping out of sight, another turn, the racket of falling coal, and then the flames roar fiercer until I think the furnace will blow apart and the shed, Selden, the woods, the world will all fly away in pieces.
But my father isn't worried, so I feel safe, too. He stands at his high desk by the door and puts his left hand to his forehead as he writes. The only bit of his face I can see under his wig is his beaky nose. This black and orange world is crammed with a million things that he knows and I don't. I want to be like him. I will be soon, if I can only pay attention and learn fast enough.
Chapter 2
I have no memories of my mother because she is a skeleton under the earth all the time I am a child. When I was born, she died; and though I appreciate the symmetry of this, I'm not satisfied. It's hard finding out more about her because I'm not allowed to ask my father, and Mrs. Gill, who looks after me, is a woman of few words.
However, on my sixth birthday, May 30, 1712, I ask Mrs. Gill the usual questions about what my mother was like and she suddenly sighs deeply, puts down the great pot she is carrying--it is the week for brewing up the elder flowers--and takes me on a long journey through the house past the Queen's Room, through a series of little doors, and up a flight of narrow stairs until we come to a low room with a high lattice window and a sloping floor. She says, "That's where you were born."
The only furniture is a rough-looking chest and a high bed shrouded in linen, which I look at with wonder. The bed is surely too small and clean for such an untidy event as a birth. "Why?" I say.
"Because everyone has to be born somewhere."
"Why this room and not a bigger one?"
"Because it's quiet and ideal." She leans over the chest in that Mrs. Gill way of not bending her back or knees but just lowering her upper body. I go closer as she brings up the lid, and I see that the inside is lined with white paper but is otherwise nearly empty. It smells like nothing else on earth, a dusty sweetness of folded-away things. And out comes a cream-colored shawl like a spider's web, a tiny bonnet, a baby's tucked nightgown, and a coil of pink ribbon with a pin in one end to keep it rolled up. "These were your things that I made you," she says, patting the clothes, "and this was your mother's." She hands me the ribbon, which I rub and sniff. "You can have that if you like. And now those elder flowers will be boiled half dry, so down we go."
Later she tells me the story of my parents' marriage. My mother, Emilie De Lery, was from a family of Huguenot silk weavers who had been driven out of France in 1685 and settled in a district of London called Spitalfields. Competition in the silk market was fierce, but my grandfather De Lery decided that fashionable London wanted color, so he went to the Royal Society to see if he could find someone who knew about dyes.
When Grand-pere De Lery knocked at the Royal Society's door, my father, Sir John Selden, was giving a paper about the green mineral malachite. Grand-pere De Lery listened rapturously, collared my father afterward, and insisted he dine en famille in Spitalfields. There John Selden met the daughter, Emilie, twenty-two years old to his forty-nine, and his old bachelor heart was won by her dark eyes and shy smile. Within six months a new shade, De Lery green, had swamped the silk market; within a year my father had abandoned his fellowship at Trinity College, Cambridge, and carried Emilie off to his home, Selden Manor, in Buckinghamshire.
Of course all that happiness didn't last long. My mother died nine months later on a May morning crowded with blossom and birdsong. She, Emilie the elder, was buried under a stone in the churchyard of St. Mary and St. Edelburga, while I, Emilie the younger, was wrapped in the cobwebby shawl and committed to the care of Mrs. Gill, housekeeper.
My father never went back to Cambridge but devoted himself to his own research and my education. Mrs. Gill said he was so sad when my mother died that he burned all her things. The pink ribbon was saved because Mrs. Gill thought I should have something as a keepsake.
Excerpted from The Alchemist's Daughter © Copyright 2012 by Katharine McMahon. Reprinted with permission by Three Rivers Press. All rights reserved.