Reading Group Guide
Discussion Questions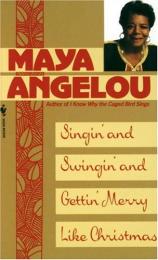 1. If I Know Why the Caged Bird Sings is about self-discovery, and Gather Together in My Name is about self-reliance, what theme would you derive from Singin' and Swingin' and Gettin' Merry Like Christmas?
2. What is the significance of the author discarding the nicknames "Ritie", "Sugar", and "Rita"?
3. On her travels around the world and throughout the book, what does Maya learn about prejudice and tolerance?
4. How would you characterize Guy? In what ways are he and his mother alike? How do they differ?

Singin' And Swingin' And Gettin' Merry Like Christmas
by Maya Angelou
Publication Date: April 1, 1985
Paperback: 256 pages
Publisher: Bantam
ISBN-10: 0553251996
ISBN-13: 9780553251999